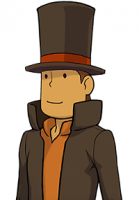 Professor Hershel Layton is a professor of archaeology at Gressenheller University in London, as well as the main character in the Professor Layton series of games. He is an English gentleman, as well as very brave and incredibly smart, as he is very well known for his puzzle-solving skills. Layton travels around with his self-appointed apprentice, Luke Triton, helping others and solving puzzles.
Professor Layton Brainwaves
26th August, 0 replies

Level-5 has announced a new game in the Layton series, named Layton 7, for the 3DS, iOS and Android platforms....

8th August, 0 replies

It always seems to take far longer than it should to bring a game over from North American to Europe...

7th August, 0 replies

More than a year after the game was announced, Western fans of Professor Layton and Ace Attorney can...
Share Professor Layton with others