Introduction
"It's all fun and games until someone's frozen solid."
Rylai the Crystal Maiden, currently one of the most popular support heroes in the game in both public and competitive Dota 2, is a ranged intelligence hero with great AoE damage nukes, a disable, the ability to jungle when not supporting in lane, and a passive aura that's useful for the entire team.
Although Crystal Maiden is a great lane support hero, she is very squishy and has terrible move speed, making her one of the most vulnerable heroes in the game.
You can find Crystal Maiden's complete character profile here.
Pros & Cons
Pros
Strong lane supporter
Item independent
Good co-ganker with her AoE slow and single target disable
Passive aura provides global utility for the entire team
Successive buffs have made her one of the strongest support heroes in the game
Often under-estimated in teamfights - her ultimate can deal tremendous damage if she's left unchecked
Can easily farm the jungle when not needed in lane
Cons
Super squishy
Absolutely terrible base move speed
No actual stun, making her disable somewhat unreliable
Item Build

Rylai is very item independent, which means there are very few mandatory items you need to purchase when playing Crystal Maiden. You are likely your team's 4th or 5th position hero, and thus will be put on supporting duties. This means buying Wards, Courier, Dust and Smoke as required. Beyond that, however, you're relatively free to purchase whatever you feel best fits the scenario at hand.
For starting items, then, you'll need to buy Courier and/or Observer Wards. Ideally you'll only have to purchase one of the two, but if no one else on your team is willing to buy one of those bite the bullet and purchase them both yourself. With whatever gold you have leftover purchase some regen - a Healing Salve and/or a set of Tangos - and as many Branches as possible or a Gauntlets of Strength.
A typical starting item set up will look like this if you're the sole support:
- Courier, Observer Wards, Tango, Healing Salve, 1x Branch
Or this if you get to split the cost of support items:
- Courier or Observer Wards, Tango, Healing Salve, Gauntlet of Strength or 2x Branches, and 1x Branch.
Early game you need to ensure the following: your team's Courier is upgraded into a Flying Courier as soon as the cooldown timer expires (3 minutes into the game), that Observer Wards are bought whenever they are off cooldown, that you purchase Sentry Wards if you need to counter-ward, and that you purchase either Sentry Wards or Dust of Appearance if the enemy team has a hero with invisibility as part of their skill set.
If you intend to gank one of the other lanes, or someone else in your team wants to team up with you to roam early on, you'll also need to purchase Smoke of Deceit, in order to avoid being detected by enemy Wards when you rotate to another lane.
Your main item priority for yourself is Boots of Speed. You need them within a decent timeframe otherwise you become the easiest of squishy pray for enemy gankers. Sometimes this means missing out on a set of Wards or Dust and this is typically worth sacrificing, but you must always ensure your team has decent Ward vision even if you're skimping on other support items.
Core early-to-mid game items are: Magic Wand (using any Branches you bought at the start), Tranquil Boots, and a Bracer (using the Gauntlets of Strength, if you purchased any). Keep buying those Observer Wards whenever they're off cooldown, and buy Sentry Wards and Dust as required Never stop doing this!
In the mid game it may be worthwhile investing in a Gem of True Sight to ensure your team has superior vision of the map and, if necessary, to detect enemy invis heroes. It can be a double-edged sword though; if no one in your team can carry a Gem with confidence it may end up falling into the hands of your enemy, granting them superior vision at your expense (900 gold's worth to be precise). Consider the line-ups, and the situation you're currently in, then decide if it's worth investing in a Gem or carrying on buying alternative sources of True Sight like Sentry Wards or Dust.
Now, if you've gotten to this stage (keep buying Wards!) you have your core items and can move onto your first luxury purchases. Here you have a huge variety of items to choose from. What is best depends entirely on the particular stat of your game, but I'll list some of the optimal item suggestions below and explain the reasoning behind my picks.
Hand of Midas - A very recent trend is the support Hand of Midas. It's grown in popularity since the most recent patch and actually has a fair bit to recommend it.
Since you have your core items already and you keep buying support items for your team as required, your first luxury item is up to you. A Hand of Midas will not only give you a free set of Observer Wards every 90 seconds in terms of gold, but will also give you a handy experience boost over the course of the game. Since the rest of your team have farming priority and you'll often be under-leveled, a Midas allows you to maintain relative parity with your teammates and enemy heroes.
The downsides to the Midas strategy are self-evident. First, you need to save up 1550 gold for the recipe all at once - easier said than done on an often sacrificial support hero. Since you NEED to be involved in team fights you can't afford to hang back, scared of dying and losing a chunk of gold. Secondly, the money you invest in a Hand of Midas takes a long time to pay for itself (about 15 minutes on average). During those 15 minutes you could have a Mekanism for your team instead, giving your team much better teamfighting capability.
In short, Hand of Midas is situational in my opinion. You'll likely have a bigger impact on the game opting for team utility items like a Mekanism, but it can definitely be worth it on a support hero if the game is pacing very slowly or you have a sudden infusion of gold.
Force Staff - You can never go wrong with Force Staff on a support hero (assuming you actually use the active!!). A Force Staff can be used to mitigate Crystal Maiden's terrible movespeed and lack of innate positioning ability. It's great for clutch escapes and also gives you even more utility for your teammates (you can use Force on allied heroes, yourself, and enemies).
Blink Dagger - A popular alternative to Force Staff. Personally, I prefer to buy Force Staff on Crystal Maiden, but Blink is fine too. Blink doesn't give you any utility for your team, unlike Force Staff, and also a very aggressive positioning tool, whereas Force Staff can always be used defensively.
Mekanism - Certain semi-carries will often buy a Mekanism (Outworld Devourer, Viper), as well some off-laners (Dark Seer), and certain other support heroes are better positioned to pick one up (Chen, Enchantress) than you, but assuming no one else on your team is building into one then I would consider Mekanism your first core luxury item pick up. The burst heal it allows you to give your teammates in fights, and the low cooldown that means you can sustain pushes, makes it one of the best support items in the game. If someone else is building a Mekanism consider purchasing a Pipe of Insight instead.
Drums of Endurance - I recommend Drums on a lot of heroes, especially supports like Crystal Maiden. You're slow, squishy, and supposed to provide support to your team. Drums goes a little way to combating all of these points. The attack and move speed aura affects teammates, the stats gain makes you a little bit tankier, it's a very cost effective item that's easy to build into, and since you already likely have a Bracer anyway it means you can grab a Drums without taking up an extra item slot. This should be your second core luxury item in my opinion.
Aghanim's Scepter - You're rich, you're probably ahead, and you're not really being focussed in teamfights. Aghanim's is a great snowball item that allows you to punish the enemy for ignoring you. If you are being killed in teamfights then instead of Aghanim's you should probably opt for...
Black King Bar - It will allow you to stay alive during teamfights and get off a full duration Freezing Field (unless the enemy line-up has an item or skill that goes through BKB, in which case them wasting it on a support Crystal Maiden in a teamfight is good for your team). BKB gives you a lot of survivability and, actually, utility for your team in certain scenarios. The other survivability option is...
Ghost Scepter - If the enemy carry tears through you like a warm knife through butter than save up for a Ghost Scepter. You'll buy yourself 4 seconds in which to do something, such as Force Staff to safety, disable the carry using Frostbite, or just distract them during a teamfight for a full 4 seconds (that's 4 seconds the more important heroes on your team have to punish the enemy team).
Heaven's Halberd - Also another good defensive item that is often overlooked. While Ghost Scepter makes you invulnerable to enemy physical attacks for 4 seconds, Halberd will prevent them attacking anyone on your team for 3-4.5 seconds. On top of that you gain a nice chunk of strength and survivability.
Scythe of Vyse - The ultimate late game item for most intelligence heroes. It's very good on Crystal Maiden too, although you won't get as much out of the bonus stats as most typical Scythe carriers that can transition into semi-carry roles. The 3.5 second Hex is superb in teamfights and for picking off enemy heroes though. The enormous cost makes it prohibitively expensive for most Crystal Maidens, but if the game is going very late and you're almost 6 slotted it's a great option.
Skill Build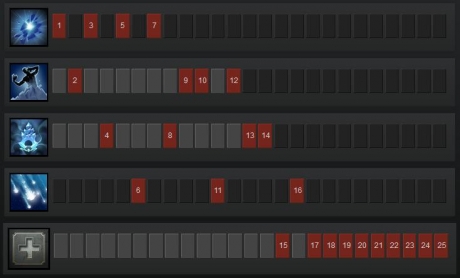 The build posted above is the one I find myself most commonly using, and is for players who like to be aggressive lane supports, but there are plenty of situations in which you will want to skill Crystal Maiden differently.
Crystal Nova and Frostbite are both acceptable skills to take at level one. Nova will allow you to heavily harass lane opponents (especially potent against dual lanes thanks to the large AoE). It's also good for aggressive level 1 engagements and teamfights.
Frostbite will allow you to lock down a single target and will allow you to access the jungle as soon as you skill it. If the enemy team decides to sack the offlane then Frostbite means you can get more out of the jungle than you otherwise would.
Why is that? Well Frostbite not only works on creeps, it last 10 seconds against creeps at all levels. This actually makes CM a decent jungler. If you have no support duties to perform and you're not needed in the lane then pop into the jungle, aggro a creep camp and pull them away. As they turn back to their camp Frostbite the largest xp/gold producing creep and then auto-attack it. CM is fairly unique in this ability to act as a lane support that can easily grab experience and gold from the jungle without a creep wave.
I get a point in Arcane Aura at level 4, sometimes earlier, for a couple of reasons. Its usefulness is at its height in the early game, when teammates will need the regen, so early points are good. Aura doesn't scale all that well either. On the other hand, CM's Nova scales much better with levels than Aura does and gives you some decent AoE damage output, so always skill this whenever you can (i.e. max it by level 7).
Note: Arcane Aura's effect is doubled on Crystal Maiden, which means she has great mana regen.
Although Nova is always worthwhile maxing first, divergence arises between whether to focus Arcane Aura or Frostbite after that. If your team is playing aggressively and you're ganking a lot then the extra few seconds of disable are great, but sometimes you will have a very mana-intensive team that could really do with the Aura. As such play it by ear; max whichever feels more appropriate and don't be afraid to put a couple of points into Arcane Aura early on for your team if you feel this would benefit them more than additional seconds of Frostbite lockdown.
Get your ultimate, Freezing Field, whenever you can (ideally levels 6, 11 and 16). A lot of builds will recommend skipping this until later on. This is an outdated view that is several patches old in my opinion. Successive patches have buffed Crystal Maiden's ultimate to the point that its damage output is actually pretty insane. A single enemy, if they are caught in the Field for its full duration, will take an average of over 800 damage. And this is an AoE skill that covers a huge radius of 835 units.
Having Freezing Field available in early teamfights gives you incredible damage output potential, and forces the enemy team to either focus you down (if they can get to you through the ultimate), interrupt the channeling (which is why it's best used after the enemy heroes have unloaded their stuns), or retreat.
Tip: Because casting your ultimate will make you a high priority kill, a good tip is to use it from the cover of fog of war or trees that are nearby because the radius of Freezing Field is a substantial 835.
Those downsides are fairly important, granted, but when used in the right situation you will win the fight for your team, despite probably being the least important hero in your line-up. The other major downside of Freezing Field is that it is expensive (200, 400, and 600 mana), but it really is worth holding enough mana back to be able to use it should an engagement take place.
Gameplay Tips

Crystal Maiden is a great lane supporter regardless of how the lanes pan out. If your carry requires support in the lane itself you can harass away enemy heroes with Crystal Nova and auto-attacks, though be careful not to push the creep wave too far. CM is also very strong in aggressive tri-lanes for the same reason.
If, on the other hand, your carry us up against a traditional offlane solo hero then creep stacking and pulling is advised. This way you help maintain creep equilibrium and acquire some gold and experience of your own without taking anything away from you carry. To 'stack' apply aggro to the creeps every time the clock hits X.54. To 'pull', aggro the creeps towards your creep wave as it approaches. This denies the enemy offlaner(s) gold/experience and pulls back the creep wave for your carry so always stack first unless your wave is pushed out towards the enemy tower.
As mentioned earlier in the guide, Frostbite works on creeps and actually lasts a full 10 seconds on them. This allows Crystal Maiden to farm large jungle without creeps and without tanking hits. To jungle with her aggro a creep camp and pull them away. As they turn back to their camp cast Frostbite on the largest xp/gold producing creep and then auto-attack it. Crystal Maiden is not a traditional jungler - you're much better off providing lane support - but if you're not needed in the lane and have no other support duties to perform this is a nice way of getting an injection of gold and experience.
Crystal Nova is a great lane harass tool and good for ganking with. Although CM has terrible base move speed, which would ordinarily make her a poor ganker, the range of Nova is substantial (700), and it has an AoE radius of 400, so you can still hit an enemy from 1100 units away.
Combined with Frostbite, which will hold the enemy in place, Nova makes Crystal Maiden a potent ganker, capable of slowing and/or disabling an enemy as well as dealing good damage early on.
Note: Frostbite is a disable not a stun. It will prevent enemies from moving, or attacking, and will cancel channeling, but it does not prevent enemies from using abilities.
Ward, ward, ward! It's your job as a support. Wards and detection take priority over any other item when playing CM (with the possible exception of Boots of Speed to prevent yourself being food for enemy gankers). If Observer Wards are off cooldown you should be buying them.
Last Updated - Patch 6.83.