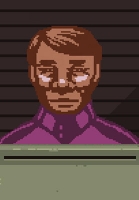 Filipe Hasse is a member of the Arstotzkan Arskickers and a minor character in Papers, Please. Appearing at the East Grestin border with only his passport, claiming his ID card was stolen in the locker room, Hasse will hand over his Arstotzkan Arskickers pennant in the hopes of the Inspector turning a blind eye. If denied, Hasse threatens to tell his coach and returns in a few days with the correct papers and requests the pennant back.
Latest Games
Papers, Please is a simulation game developed by

Lucas Pope

and published by

3909 LLC

for

Microsoft Windows

and

Mac OS

. The game follows an immigration inspector who must monitor the potential threats and citizens entering the fictional country of Arstotzka.
Share Filipe Hasse with others