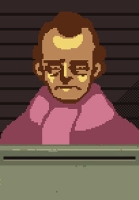 Dari Ludum is the owner of the Pink Vice brothel in Arstotzka and a minor character in Papers, Please. While checking papers, the Inspector is slipped a note from a woman, who claims that Ludum promising to find work for her and her sister, and she is afraid of he will force them to work at the brothel. Although his papers are in perfect order, confronting Ludum can lead to his detainment.
Latest Games
Papers, Please is a simulation game developed by

Lucas Pope

and published by

3909 LLC

for

Microsoft Windows

and

Mac OS

. The game follows an immigration inspector who must monitor the potential threats and citizens entering the fictional country of Arstotzka.
Share Dari Ludum with others