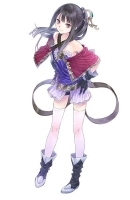 Mimi is an old friend of Totori, back from the time she was an adventurer. She is sent by the Arland Republic to help in Arls's developement. She likes Totori quite a lot, but remains far too shy to express her friendship.
Latest Games
Developed by Gust Co. Ltd. for PS3, PSV

Atelier Meruru is a Japanese RPG in which you play as Meruru, a young princess who wants to become an alchemist in order to develop her kingdom.
Mimi Houllier von Schwarzlang Brainwaves
Share Mimi Houllier von Schwarzlang with others
Mimi Houllier von Schwarzlang