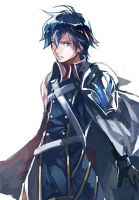 Chrom is the prince of the Halidom of Ylisse and the main protagonist in Fire Emblem: Awakening. A descendant of the Hero King, Marth, he is the captain of Ylisse's vigilante force, the Shepherds. He is the brother of Lissa and Emmeryn, the father of Lucina, and the uncle of Eudes.
When the neighboring nation of Plegia begins to act suspiciously, Chrom leads the Shepherds against them to protect his Halidom. He has a strong sense of justice and is a crucial member of his squad. He breaks the most things during army practice.
Latest Games
The game takes place in Tokyo, following the lives of the young members of the Fortuna Entertainment talent agency. These youths become "Mirage Masters", who have the power to merge with Mirages, souls of warriors from another world, such as Chrom. While some Mirages are kind-hearted and help out the Mirage Masters, others seek to cause chaos and draw power from the emotions of innocent people, and it is up to the Mirage Masters to stop them.
Share Lord Chrom with others