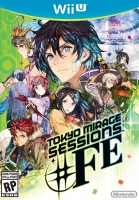 The game takes place in Tokyo, following the lives of the young members of the Fortuna Entertainment talent agency. These youths become "Mirage Masters", who have the power to merge with Mirages, souls of warriors from another world, such as Chrom. While some Mirages are kind-hearted and help out the Mirage Masters, others seek to cause chaos and draw power from the emotions of innocent people, and it is up to the Mirage Masters to stop them.
Tokyo Mirage Sessions #FE Brainwaves
2nd April, 0 replies

Nintendo yesterday showed off a new trailer for the upcoming Wii U Shin Megami Tensei x Fire Emblem crossover...

27th May, 0 replies

Oh Nintendo, you sure do enjoy not following standard E3 protocol. For the second year in a row, the...
Share Tokyo Mirage Sessions #FE with others
Tokyo Mirage Sessions #FE