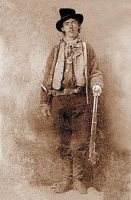 William H. Bonney, also known as Billy the Kid, is a famous criminal from the Wild West era.
He is scheduled to appear as a character in Call of Juarez: Gunslinger where he will be one of the many characters the player will have to hunt down in the game.
Latest Games
Developed by Techland for WIN, PS3, X360

Call of Juarez: Gunslinger is a first-person shooter and the fourth title in the

Call of Juarez series

. It sees the series return to the Wild West with an all-new protagonist and three unique game modes.
Share Billy the Kid with others