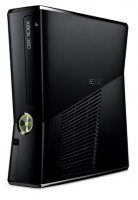 Edit Platform
The Xbox 360 is the second video game console developed by and produced for Microsoft, and is the successor to the Xbox. The Xbox 360 competes with Sony's PlayStation 3 and Nintendo's Wii as part of the seventh generation of video game consoles.
As of December 2012, over 75 million Xbox 360 consoles have been shipped worldwide, and over 700 million units of software have been sold.
Xbox 360 Brainwaves
3 days ago, 1 replies

UK video game retailer GAME has apparently begun trials of a tinned Christmas dinner at its Basingstoke...

10 days ago, 2 replies

The Xbox 360 version of Assassin's Creed Liberation HD will be available on Xbox Live Arcade on January...

15 days ago, 1 replies

Remember last week, when it was teased that the PlayStation 3 and 4 versions of Metal Gear Solid V: Ground...
Share Xbox 360 with others