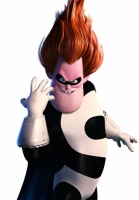 Syndrome is the main antagonist of the Pixar film, The Incredibles. He used to be the self-proclaimed #1 fan of Mr. Incredible, but due in his carelessness in trying to help them, he was reprimanded by the police and returned to his family. This caused him to turn into a villain to spite Mr. Incredible. He doesn't have any powers, but he is incredibly intelligent, which he used to create countless weapons to sell and become rich.
Latest Games
Developed by ImaginEngine for MAC, WIN

The Incredibles: When Danger Calls is an action-advanture game developed by

ImaginEngine

and publshed by

THQ

for

Mac OS

and

Microsoft Windows

. The game is a collection of 10 mini-games that involve the incredible family and the everyday things they have to deal with.
Share Syndrome with others