Introduction
"I left my hoofprints in your backside."
Enchantress is a ranged intelligence support, jungler and pusher. She plays a similar role to that of Chen, whereby she converts neutral creeps to fight for her and then uses them to jungle, gank, and push. Unlike Chen, she is capable of high damage output herself if left unchecked in fights, thanks to her ultimate.
Pros & Cons
Pros
Fast jungler
Strong early ganker and pusher
Strong healing ability
Ultimate allows her to be a good source of DPS
Untouchable makes her a good pick against physical damage-over-time cores
Cons
Highly vulnerable to burst damage
Squishy if unable to cast Nature's Attendants
Requires decent micro skills
Lacks disable/lockdown
Mana issues
Item Build
Starting Items
Enchantress is rare, even amongst dedicated junglers, in her ability to jungle without any regeneration whatsoever (both mana and health). This frees you up to invest in a wide range of supportive items. If no one else buys them, purchase the Courier for your team as well as Observer Wards.
If you intend to gank early on - especially the mid lane – then a Smoke of Deceit is a great way to gank without being spotted by enemy Observer Wards, so you may wish to purchase Smoke at the start as well. Sentry Wards may also be handy for your safe laners if the enemy offlaner is an invis hero.
Outside of supportive starting items, two sets of Gauntlets of Strength are great to start out with, giving you some much-needed strength and starting you off on one of your core early game purchases. Any leftover gold can be invested in Iron Branches, which will also be upgraded later on.
Early Game
As with other support heroes, make sure the Flying Courier is bought at the 3 minute mark, and that Observer Wards are bought up whenever they're off cooldown.
Round out your inventory early on by getting some early Boots of Speed, upgrading the Gauntlets of Strength into an Urn of Shadows (for some mana regen and heal/damage over time capability), and upgrade any Iron Branches into a Magic Wand.
It's at this stage you may want to consider purchasing a Hand of Midas. I've listed it as situational in the image on the right. It's greedy, yes, but it will accelerate your farm and ensure you keep up in terms of levels. It's not that popular in competitive Dota, as the Enchantress is called on to be a very active ganker and pusher, but in public matchmaking it's easy to get away with a Hand of Midas pick-up on Enchantress, so do keep it in consideration.
Core Items
Power Treads are your first major item purchase. Enchantress has pitifully low base health (454) and low strength gain (+1.0), so she needs all the health gain she can get. Power Treads give you some much needed health and attack speed (which will come in handy when you hit level 6 and start using Impetus in fights).
If you're playing a primarily supportive role and no one else on your team intends to purchase one, then Mekanism should be your go-to core item. It's an absolutely fantastic item on any support, especially a healing support like Enchantress. It also helps to tank her up, so isn't an entirely sacrificial item choice.
Mekanism is absolutely necessary for your team, with its burst AoE heal and armour, but do be sure to check with your team to see if anyone else intends to build one before you get started on it. If someone else does intend to build it then you can move straight onto…
Aghanim's Scepter – +200 health, +100 mana, and +10 all stats are all fantastic to have on such a squishy hero like Enchantress that really needs all the stat gain she can get.
The buff to her ultimate is what makes this such an essential item on Enchantress though. Impetus is already an extremely potent damage ability, but Aghanim's Scepter makes it all the more deadly, increasing Enchantress's attack range from 550 units to 740 units and in so doing massively increasing Impetus's own average damage output.
Luxury Items
There are a number of potential luxury items for Enchantress. These tend to fall into a couple of categories – those that increase the damage output from Impetus, and those which play a utility role for your team.
Force Staff – You can never go wrong with Force Staff on a support hero (make sure you actually use the active!). It will help to mitigate your own lack of mobility and/or positional skill. It's also great for clutch escapes or chases and also gives you even more utility for your teammates (you can use Force on allied heroes, yourself, and enemies).
Orchid Malevolence – An amazing offensive item on Enchantress. It gives you a great boost of damage, attack speed, and mana. The added mana and mana regen allow you to use your abilities more liberally, especially the mana-hungry Impetus, and the active 'Soul Burn' will allow you to silence an enemy hero and deal significantly more damage for its duration. The other great thing about Orchid is that it's really easy to build into.
The downside to Orchid, and the reason it's a risky pick-up at least early on, is that it gives you no survivability – no health and no strength – which leaves Enchantress being extremely squishy. It's a superlative offensive item on Enchantress but generally best to purchase once you have sufficient survivability.
Bloodstone – If you really want to focus on tanking up then Bloodstone is the best option. +500 health, +400 mana, and a lot of regeneration. The reason I would recommend it over Heart of Tarrasque on Enchantress is for the mana and mana regeneration, which is critical because Impetus is a really mana-hungry ability. It costs 55/60/65 mana per cast but is an ability that you'll want to use on every auto-attack in teamfights – Bloodstone allows you do to this.
Heaven's Halberd – Halberd is a great way to help tank Enchantress up while also providing a lot of utility for your team. The +20 strength is a nice boost to your health pool, whilst 25% evasion means you'll mitigate a lot of damage. It also has utility for your team, thanks to the ability to Disarm an enemy physical DPS'er for 3.0-4.5 seconds.
Scythe of Vyse – Fantastic luxury item. Good stats, fantastic mana regeneration, and 3.5 seconds of enemy disable. The prohibitive cost makes it more of a second or third luxury item though, as you'll probably need at least a tanky item first. That said, the sooner you get a Scythe the more game-breaking it can be for your team.
Black King Bar – If you find you're being shut down in teamfights and unable to get off your abilities, especially Impetus, then you'll need the Spell Immunity from BKB to be able to make an effective contribution to teamfights – you'll also get some decent health out of it.
Necronomicon – Great way of augmenting your pushing potential and a good way to finally break the base if your team is struggling to do so. Also a great item for teamfights and for countering any invis enemy heroes and gives you some good stat gain too.
Shiva's Guard – A great late-late game item. By this stage you're likely 4 or 5 slotted, and so it becomes a contender for your last couple of item slots. The armour will go a good way to making you incredibly tanky, while the aura is great to have for your team. You also gain a nice chunk of intelligence (always helpful for Enchantress; both as a way to increase damage and maintain your mana pool). You can also use the Arctic Blast AoE nuke to damage and slow enemies in teamfights.
Situational Items
Drums of Endurance – A solid pick-up because they give your team bonus attack speed and move speed auras, whilst at the same time giving you plenty of stats and being easy to build into (since the components are so cheap you can buy them up whenever you have the spare unreliable gold, meaning you won't lose much gold when you die).
Pipe of Insight – Not an ideal pick-up if you bought the team's Mekanism (having both on one hero is very risky, especially a fairly squishy one like Enchantress), but always a good item to have if the enemy team has any magic damage (which they almost certainly will). Quick rule of thumb: go for it if you didn't buy the Mekanism earlier.
Boots of Travel – When you are at that stage of the game when you're becoming 6 slotted, swap out your initial set of boots for Boots of Travel. It frees up a slot you would otherwise have reserved for a TP Scroll and makes you much less susceptible to split-push.
Skill Build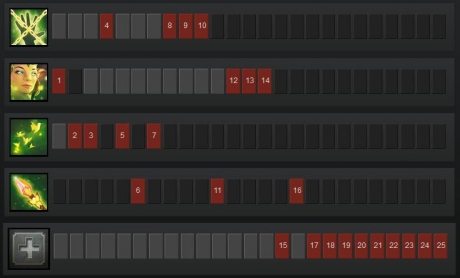 Untouchable is a passive which slows the attacks of those units and heroes that attack her. It is skilled last but maxed second. Untouchable slows the attacks of an enemies that target Enchantress by 30/60/90/120 for 4 seconds.
Untouchable works on both direct physical attacks and targeted spells, and is applied when the attack commences, not just after the damage is dealt, making it hard for enemies to straight up physically attack Enchantress.
Enchant is a dual purpose ability which slows enemy heroes when used on heroes or converts the enemy or neutral creep to fight for Enchantress if used on creeps. It is always skilled first, so that you can jungle from level 1, but is maxed last.
When used on neutral creeps or enemy creeps, Enchant brings that unit under her control for 80 seconds, at the cost of 65 mana. When cast on enemy heroes, Enchant slows the hero by 20/30/40/50% for 5.5 seconds.
Nature's Attendant is an area-of-effect healing ability which is always maxed first but tends to be skilled second or even last. When cast, this ability summons a group of wisps which follow Enchantress around, healing both herself and any nearby allied units that are not at full health.
A total of 3/5/7/9 Wisps are summoned and each heals for 10 every second, resulting in a total healing potential of 300/500/700/900. The Wisps last for a total of 10 seconds and heal units within a 275 unit radius.
Impetus is Enchantress's ultimate and it is always skilled (levels 6, 11 and 16). Impetus is a toggle-able ability which enhances Enchantresses own attacks, adding additional pure damage to her attacks which is based on the distance she is from the target in question.
Impetus has a range of 550 units and deals up to 375/500/625 pure damage per hit, making for a very potent attack. However its mana cost of 55/60/65 per use makes it a very mana hungry ability.
Gameplay Tips
Untouchable makes Enchantress a deceptively tanky hero against physical attackers that don't tend to purchase Black King Bar, especially melee ones, as although her health pool remains low, with Untouchable they will struggle to actually hit you, providing you don't stand still.
Untouchable allows Enchantress to tank creeps if necessary, without taking much in the way of damage. This is especially useful for early Roshan attempts; even line-ups that are ill-suited to taking Roshan down early can do so with the help of an Enchantress with a few points in Untouchable.
Enchant allows you to jungle from level 1, it also allows you to gain access to two neutral creeps by the first full minute of the game, making Enchantress a very scary level 1 ganker.
Tip: Enchant actually works on illusions, allowing you to steal, for example, Morphling Replicates, and the illusions from illusion-based carries like Naga Siren, Phantom Lancer, and Chaos Knight. In the case of Phantom Lancer the stolen illusion can spawn additional illusions as well.
You can also use Enchant to take over enemy-controlled neutrals, such as Chen's jungle creeps or enemy Necronomicon units.
Nature's Attendants is a fantastic heal ability, dealing a total of 300/500/700/900 health over its 10 second duration. This makes Enchantress ridiculously tanky… providing she is able to get it off. Be sure to use it at the start of teamfights or ganks.
Note: The Wisps from Nature's Attendants stay around even when Enchantress dies, so this ability continues to heal allies even if you are dead.
Impetus allows Enchantress to dish out phenomenal amounts of DPS in teamfights. Be sure to conserve enough mana to be able to use Impetus during crucial engagements.
Remember: Impetus is a unique attack modifier, so it does not stack with other UMS', such as Desolator's minus armour or Eye of Skadi's slow, so do not purchase items with unique attack modifiers for Enchantress.
Impetus deals more damage the further away you are from your target. The damage is calculated when it lands, so enemies running away from you will take more damage than usual. It is, however, capped at 375/500/625 damage per attack.
Last Updated - Patch 6.83.