Introduction
"The Tusk is always ready for a fight!"
Tusk is a melee strength initiator, ganker, and burst damage dealer. Tusk can be played in a variety of roles, from support to semi-carry.
Tusk's complete character profile can be found here.
Pros & Cons
Pros
High burst damage output
Good control
Versatile laner and roles
Reworked Snowball ability can be used to save allies
Scales decently well with farm
Fairly tanky
High base armor
Cons
Melee attack range
Has mana issues
Surprisingly high skill ceiling and floor
Snowball can also accidentally get your teammates killed if not used opportunely
Quite level and item dependent
Item Build
Starting Items
If you're playing Tusk as a support hero then you'll need to purchase the Courier and/or Observer Wards, and be sure to upgrade the Courier into a Flying Courier at the 3 minute mark and ensure Observer Wards are bought whenever they're off cooldown. If you're not playing as a support, then you can opt for starting items that look something like this:
- Tangos, Healing Salve, 3x Iron Branches, Circlet
This gives you plenty of regen to see you through the early laning phase as well as plenty of starting stats.
Early Game
Early on you want to grab some basic Boots of Speed and get to work on upgrading your starting items: the Iron Branches can be upgraded into a Magic Wand, which is core on virtually every hero in the game, and the Circlet can be upgraded into an early Bracer for the nice, cost effective stat gain it provides.
At this stage there are some situational items to consider:
Bottle – if you're laning Tusk mid then Bottle is core, in order to secure the runes, keep your health and mana topped up, and allow you to make effective rotations and ganks. Bottle is also situationally good if you're offlaning – Tusk, like Clockwerk, is an offlaner who gets through both a lot of health and mana, and so Bottle makes for a cheap form of regeneration for both, even if you're unlikely to secure many runes with it early on.
Orb of Venom – A popular choice on some tanky melee heroes early on. As with someone like Ogre Magi, an Orb of Venom allows you to fully leverage your early high base armor and health pool to trade hits with any enemy laners who choose to engage with you – not many will win such man fights against Tusk with an Orb of Venom.
The other advantage of an early Orb of Venom is the slow it provides after your initial burst of damage. If the enemy in question retreats on low life then Orb of Venom and Boots will allow you to keep up the chase. If you intend to fight and gank early, Orb can be a great value pick-up.
Core
Phase Boots are my preferred upgraded boots on Tusk. The damage they provide synergises superbly with your ultimate early on, and they allow you to chase down fleeing enemy heroes. Melee heroes often find themselves being kited a lot, and Phase Boots are a great way to cut down on this. They also prevent you from becoming entangled and held up by creep waves in the middle of skirmishes.
Power Treads provide good stats, and Arcane Boots will solve your mana problems, but the phase capability of Phase Boots, as well as the early damage it brings to your ultimate, make them my recommended upgraded boots. The one key exception would be if playing him as a support in a line-up which is quite mana intensive, in which case Arcanes are certainly a good alternative.
Luxury Items
Drums of Endurance – Gives you a bit of almost everything you need - solid stat gain, attack speed, mobility, and even a team aura. Drums are fairly cheap and easy to build into, so even if you had a bad start you should be able to get them up and running fairly quickly.
I would strongly recommend Drums if none of the other cores on your team intend to build them. This way you provide utility for the team that otherwise wouldn't be there, in the form of the auras, and you are able to upgrade into Drums from the Bracer you purchased in the early game, making Drums a natural extension to your inventory.
Shadow Blade – One of the most popular items in public matchmaking for Tusk is Shadow Blade. Shadow Blade gives you mobility and additional initiation capability whilst at the same time providing you with an extra 22 damage, bonus damage upon attacking out of invisibility, and 30 attack speed.
Shadow Blade as an item has generally fallen off greatly in popularity following its nerf in patch 6.78, but it's still a great pub stomp item in lower levels of play, and even higher levels if bought quickly enough and put to effective early use.
Heaven's Halberd - A great option if you want to tank up even more whilst also providing utility for your team. 20 strength is a nice boost to your health pool and damage output, whilst 25% evasion means you'll mitigate a lot of damage. It also has good overall utility for your team, thanks to the ability to Disarm an enemy physical DPS'er for 3.0-4.5 seconds.
Desolator – One of the most popular luxury item pick-ups for Tusk. Desolator is one of the cheapest damage-focussed items in the game, so you'll get bonus damage for Walrus Punch! in quite a timely manner.
The minus armour from Deso also makes it a good utility option at the same time as increasing your own damage output because the -7 armor works on buildings as well as enemy units and heroes, increasing the potency of your entire team's physical damage output.
Black King Bar – A great luxury item for any semi-carry, BKB gives you some added damage and health, but most importantly the active Spell Immunity will allow you to stay alive and not get stun-locked or burst down by magic damage during teamfights.
Armlet – Despite the recent nerf, which made Armlet toggling slightly less effective, it's still very much possible to toggle and still a great item for melee strength carries and semi-carries. Armlet gives Tusk a nice damage boost, additional armour and health, and health regeneration, on top of the active toggle ability.
Tip: 'Toggling your Armlet' is the process by which you turn off and on Armlet's active ability in order to quickly regenerate your health when you're low, and effectively save your life when you would otherwise die.
The key is to turn Armlet off when you're at very low health and expect a killing blow, but to do so before such a blow hits. Then straight away turn it back on, so that your health pool regenerates. If timed correctly - between instances of damage - you will regain enough health to survive most auto-attacks/abilities.
Vladmir's Offering – Always a decent option on a non-core melee hero, especially if you purchase an early Ring of Basilius or if you opt to play more of a utility role than a semi-carry one. The +5 armour is a nice boost to your base armour, and the life steal and damage auras in particular will benefit both yourself and your team.
Assault Cuirass – The more expensive +armour option that will also make you hit a lot harder. A huge +10 armour and 35 attack speed for yourself, and +5 armour and 20 attack speed for your teammates. The -5 armour that applies to nearby enemies also works on enemy creeps and enemy buildings, making it a great overall teamfight and pushing item.
If you went for a Desolator as one of your early luxury pick-ups, Assault Cuirass is a perfect compliment. The drawback is that it's very, very expensive, and so unless you're getting a lot of kills or the game is going ultra-late it's unlikely you'll be able to afford it. That said, if you will be able to afford it and no one else on your team is building into one it's a fantastic item to buy.
Situational Items
Boots of Travel – When you are at that stage of the game where you've ran out of item slots then swap out your initial set of boots for Boots of Travel. It frees up a slot you would otherwise have reserved for a TP Scroll and makes you much less susceptible to split-push in the super late game.
Pipe of Insight – Pipe is a possible situational pick-up on Tusk, albeit a very uncommon one. You should get it if your team is built around and dependent on breaking the enemy base before a certain timing window closes, or if the team's supports are too poor to ever realistically afford it.
Necronomicon – A very powerful item for pushing. Worth getting if you're in a pushing line-up, or your team is struggling to break the enemy base. The other advantage of Necronomicon is that at level 3 you get True Sight from the Necro Warrior, and so your team won't need to rely on Dust/Sentry Wards to counter enemy invisibility.
Ghost Scepter – If you find that you're easy pickings for the enemy DPS'ers and at risk of feeding more than helping your team then get a Ghost Scepter. It will give you 4 seconds of physical invulnerability, which will feel like an age to the enemy carry.
As Tusk you'll never truly be able to go 1-on-1 in a manfight with a farmed carry past a certain stage of the game, but what Ghost Scepter allows you to do is get off your burst damage combo, including your ultimate, before then triggering Ghost Scepter to prevent being caught in an unwinnable manfight.
Skill Build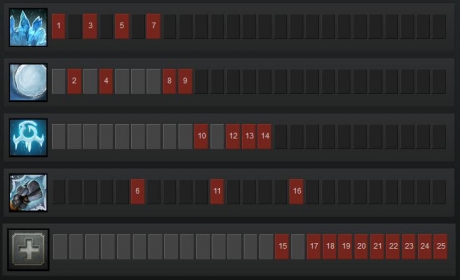 Ice Shards is a magic damage nuke which also creates a barrier of ice. It is always skilled and maxed first. Ice Shards sends out of frozen ball of energy which deals 70/140/210/280 magic damage to any units it hits along its path.
Once it reaches its destination, five shards of ice are released which create a barrier, blocking the way for 7 seconds. It is therefore used both as a nuke and as a pseudo-disable that blocks off an enemy's escape path.
Snowball is also a magic damage nuke, but one which also stuns the target briefly upon contact. It is always skilled and maxed second. Snowball turns Tusk and nearby allied heroes into a snowball which, once launched, travels at 150% of Tusk's move speed towards the chosen target. If it hits the target, it deals 80/120/160/200 magic and stuns them for 0.5/0.75/1/1.25 seconds.
Snowball also deals bonus damage based on the number of allied heroes inside the snowball – 20/30/40/50 per hero, and adds 100 move speed to the snowball per hero as well.
Frozen Sigil creates a sigil which negatively affects enemy heroes within its radius. It is always skilled and maxed last, although an early point is sometimes invested in it for the utility it provides. Frozen Sigil applies 10/15/20/25% move speed slow and 30/40/50/60% attack speed slow in a 600 unit radius and lasts for 30 seconds.
Walrus Punch! is Tusk's ultimate and it is always skilled (levels 6, 11 and 16). It allows his next attack to deal a 350% crit, knock the enemy into the air for 1 second, and then apply a 40% move slow for 2/3/4 seconds.
Additional levels decrease the cooldown from 20 seconds, to 16, to 12.
Gameplay Tips

Ice Shards travel in a straight in front of you in the direction you cast them. This can make them quite tricky to land, especially at great distances. Try to anticipate enemy movements to ensure they hit more often than not.
Ice Shards are a great way of blocking off an enemy's retreat path and also taking advantage of small positioning mistakes. If the enemy positions themselves too aggressively you can throw out a quick Ice Shards onto them to magnify there mistake and allow your team to quickly pick off an isolated hero.
If you're in the offlane and being aggressively hounded by a low level enemy support, look out for them coming within range of your tower; if they do you can punish them for being overly aggressive by using Ice Shards to prevent their retreat back outside of tower range.
Ice Shards generally isn't very useful for escaping when being chased, as the Shards form behind the enemy hero they hit, and so their own path is not blocked. However, if you're being pursued by multiple enemy heroes it can be used to potentially hinder the movement of heroes that are directly behind the leading pursuer.
Be careful when using Snowball. What looks like a good situation in which to Snowball an enemy can quickly turn nasty and end up getting your and your teammates killed. Remember that it has a fairly slow travel time and so you need to anticipate the situation a few seconds from the cast point. If in doubt, do not pull your allies into your snowball!
Tip: Snowball can be a great way to save an ally who's about to die. Because it has a potential 4 second delay prior to launching, and during this time Tusk and allies inside the Snowball are invulnerable, you can Snowball target an enemy creep or hero (or they can click on the Snowball themselves), grab the allied hero who's about to die, and so delay their death by several seconds.
This gives your other teammates time to join the fight, or your ally's abilities or items to come off cooldown. At the very least it wastes several seconds of the enemy hero's time.
Warning: Do not offensively Snowball an enemy if you've been slowed. The Snowball will move at 150% of your actual move speed, not your default move speed, so the Snowball will move extremely slowly and likely comes to a stop well short of your intended target.
Frozen Sigil has an incredibly potent aura – minus 60 attack speed and -25% move speed is substantial. Try to always cast it during teamfights so that the attack speed slow effects enemy cores and reduces their DPS regardless of spell immunity.
Frozen Sigil is also useful for delaying an enemy team's Roshan attempt – simply have to hover on the cliff surrounding the pit and it will reduce the entire team's attack and move speed.
Note: Frozen Sigil will actually follow Tusk if you don't manually command it to move, so you don't have to worry about micro-ing it if you're poor at micro.
If your team is on the retreat, Frozen Sigil can greatly help them make a clean escape – having Frozen Sigil trail behind your team will make it that much harder for the enemy team to catch up, and if they decide to target the Sigil itself that will also buy you a small amount of time.
Walrus Punch! has a brief 1 second disable, which occurs as soon as it connects with the unit and throws them into the air. As it also goes through spell immunity it's a great way to interrupt channelled abilities that have been cast under the apparent protection of spell immunity, interrupting tp scrolls, or simply helping to waste the BKB duration of a core enemy hero.
Use Walrus Punch! early on in teamfights/ganks. Assuming the fight doesn't end immediately then you'll probably be able to use Walrus Punch! twice in the teamfight.
Tusk's standard ganking combo is: Ice Shard > Snowball > Walrus Punch! hit > right clicks > second Walrus Punch!
Last Updated - Patch 6.83.