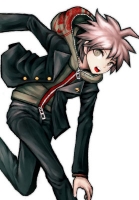 Makoto Naegi is the protagonist of Danganronpa: Trigger Happy Havoc, and is given the title of Ultimate Lucky Student. He is considered a typical high school student who ends up winning a lottery to attend the Hope's Peak Academy. He has the ability to remain calm and focused under pressure, which is something he will need to help escape from Monokuma and the school.
Latest Games
Developed by Spike for WIN, PSP, PSV

Danganronpa: Trigger Happy Havoc is a murder mystery visual novel initially developed by

Spike

for the

PlayStation Portable

in 2010, where it was only released in Japan. A Playstation Vita remake of the game was released in October of 2013 in Japan, with an international release in February of 2014, published by

NIS America

.
Share Makoto Naegi with others