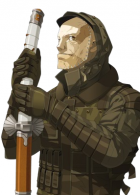 Tsugihagi is a character from Shin Megami Tensei IV.
He is wearing a military-style outfit and he has many scars all over his body, indicating that he may have been in a battle of some kind. He is holding a large Japanese sword, as well. His relationship with Fujiwara is a mystery, as they seem to be acquantances.
Latest Games
Shin Megami Tensei IV is a role-playing game developed and published by

Atlus

for the

Nintendo 3DS

. The game is a sequel to the

PlayStation 2

role-playing game,

Shin Megami Tensei: Nocturne

, although it's not a direct sequel. Exploration takes place in third-person, while the battle system is in first-person. The game takes many elements from previous games in the

Shin Megami Tensei

series, as well as incorporating some new things.
Share Tsugihagi with others