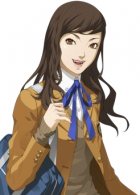 Hikaru is a character from Shin Megami Tensei IV.
She seems to be a high school student, since she is wearing a school uniform, although this isn't clearly known. Her interest in the Samurai characters is a mystery, although her intentions aren't clear.
Latest Games
Shin Megami Tensei IV is a role-playing game developed and published by

Atlus

for the

Nintendo 3DS

. The game is a sequel to the

PlayStation 2

role-playing game,

Shin Megami Tensei: Nocturne

, although it's not a direct sequel. Exploration takes place in third-person, while the battle system is in first-person. The game takes many elements from previous games in the

Shin Megami Tensei

series, as well as incorporating some new things.
Hikaru (SMT IV) Brainwaves
Share Hikaru (SMT IV) with others