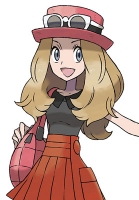 Serena is a character in Pokemon X and Y. She will appear as the main character's neighbor if the player chooses to play through the game as a male. If the player chooses to play as a female, then they will play as Serena with their own name.
Serena will battle the player throughout their journey in the Kalos region, as she wants to become a powerful Pokemon trainer.
Latest Games
Developed by Game Freak for 3DS

Pokemon X and Y are the latest in the

Pokémon

series, developed by

Game Freak

for

Nintendo 3DS

. The games are the first in the series to feature full 3D graphics and features the beginning of the Generation VI Pokemon. This will include a new Pokemon type, as well as at least 25 new Pokemon.
Serena (Pokemon) Brainwaves
Share Serena (Pokemon) with others