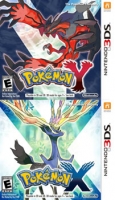 Pokemon X and Y are the latest in the Pokémon series, developed by Game Freak for Nintendo 3DS. The games are the first in the series to feature full 3D graphics and features the beginning of the Generation VI Pokemon. This will include a new Pokemon type, as well as at least 25 new Pokemon.
Like all the previous games, the player takes on the role of a Pokémon Trainer who travels the world capturing creatures and using them to battle against other trainers.
Pokemon X/Pokemon Y Brainwaves
23 days ago, 1 replies

The Spike VGX (better known by its former name as 'the VGAs') awards nominations have been announced....

28th October, 0 replies

Japanese channel NHK featured The Pokemon Company CEO Tsunekaz Ishihara on a recent episode of The Professionals...

25th October, 0 replies

Nintendo has released the Pokemon X & Y patch that will fix the save-corrupting glitch that caused players...
Share Pokemon X/Pokemon Y with others