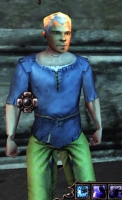 Darius is the most important non-playing character to players in Aralon: Sword and Shadow HD. Players will not encounter him until they reach Callaheim but once they reach the city, they will frequently interact with Darius. He should never be killed because he gives players most of the main quest challenges (including the last one players need to complete the game). He can be found in his home in West Callaheim most of the time and he will send players to the others who are involved in the main quest (e.g. Gorak, Vierne).
Latest Games
Developed by Crescent Moon Games for AND, iOS

Aralon Sword and Shadow was developed by Crescent Moon Games and Galoobeth Games and is available to play on the iPhone, iPad and Android platforms. The game was originally released on December 4, 2010 and several updates have occurred since then, the latest occurring on June 24, 2013 (for Android). These updates have added new areas to explore, mounts, quests, weapons and armor to name a few. Aralon is an epic 3D role-playing adventure that focuses on a compelling story in an open world ready for exploration.
Darius (Aralon) Brainwaves
Share Darius (Aralon) with others