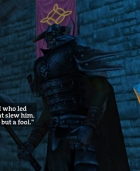 Lord Valemar is a principal follower of Merificus, the principal antagonist in Aralon: Sword and Shadow HD, thus making him one of the deadliest enemies in the game. He killed Captain Renlyn Lordel, players' father, and captured Gorak, the royal guard helping players with the main quest of the game. His home, Valemar Keep, is in the Western Kingdom, very close to Redrock Bay.
As part of the main storyline, Darius sends players to rescue Gorak, who has been taken (on Merificus' orders) by Lord Valemar. The player must fight his or her way through Valemar Keep, which is filled with corrupt knights and priestesses. Players must also kill Lord Valemar as well as free Gorak who is being held in the Dungeons.
Latest Games
Developed by Crescent Moon Games for AND, iOS

Aralon Sword and Shadow was developed by Crescent Moon Games and Galoobeth Games and is available to play on the iPhone, iPad and Android platforms. The game was originally released on December 4, 2010 and several updates have occurred since then, the latest occurring on June 24, 2013 (for Android). These updates have added new areas to explore, mounts, quests, weapons and armor to name a few. Aralon is an epic 3D role-playing adventure that focuses on a compelling story in an open world ready for exploration.
Share Lord Valemar with others