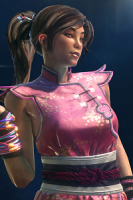 Van is a playable character in the video game Fighter Within. She started Viet Vo Dao and karate when she was a kid. At thirteen years old, she took an oath: she will be an Olympic champion in martial arts to avange her mother's name. Her mother fell into a depression after she was outcast by Chinese authorities after falling an anti-doping test.
Latest Games
Developed by AMA Studios for XOne

Fighter Within is a fighting game developed by

AMA Studios

for the

Xbox One

. Using the new

Kinect 2.0

sensor's technology, the game delivers an immersive motion fighting gameplay. Players are able to throw punches, kicks, and perform counters and combos using motion controls. Through multiplayer online or offline, players can challenge their friends and earn bragging rights in ultra-raw fighting sessions.
Van (Fighter Within) Brainwaves
Share Van (Fighter Within) with others