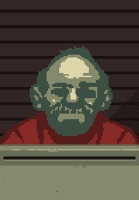 Jorji Costava is a suspicious man who constantly tries to enter Arstotzka, and fails, in Papers, Please. A man behind his times, Jorji has a habit of appearing with previous regulation papers just after regulations change. When Jorji finally does appear with the correct papers, he is smuggling contraband and can be detained. Despite being constrantly denied or detained, Jorji keeps a positive attitude and even helps the Inspector escape Arstotzka if needed.
Latest Games
Papers, Please is a simulation game developed by

Lucas Pope

and published by

3909 LLC

for

Microsoft Windows

and

Mac OS

. The game follows an immigration inspector who must monitor the potential threats and citizens entering the fictional country of Arstotzka.
Share Jorji Costava with others