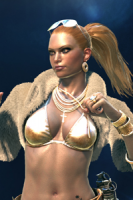 Sabina is a playable character in the video game Fighter Within. She used to work as a high fashion model before changing careers and becoming a police officer. During her police career, she has learned Sambo and showed off excellent skills, espide having a hot temper. When she won the Miss Russia contest, she became an icon among the Russian Pollice. Sabina now wants to combine her love of the spotlight with her Sambo skills to become the number one action movie star.
Latest Games
Developed by AMA Studios for XOne

Fighter Within is a fighting game developed by

AMA Studios

for the

Xbox One

. Using the new

Kinect 2.0

sensor's technology, the game delivers an immersive motion fighting gameplay. Players are able to throw punches, kicks, and perform counters and combos using motion controls. Through multiplayer online or offline, players can challenge their friends and earn bragging rights in ultra-raw fighting sessions.
Sabina Tereknova Brainwaves
Share Sabina Tereknova with others