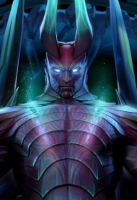 Terrorblade is a character found in the video game Dota 2. He is a melee agility hero who fights for the Dire faction.
The newest hero to be included in the game alongside Phoenix, Terrorblade is a melee agility carry that has the potential to scale incredibly well into the late-game.
Terrorblade (Dota 2) Brainwaves
28th January, 2 replies

Brings with it a new hero - Terrorblade - as well as a Chinese-themed New Bloom Festival (which features...
Share Terrorblade (Dota 2) with others