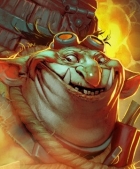 Squee, Spleen and Spoon, the Techies (referred to simply as 'Techies') is a character found in the video game Dota 2. Techies is a ranged intelligence hero who fights for the Radiant faction.
Techies has one of the most unorthodox playing styles in the game that makes him both loved and loathed in equal measure. He excels at planting invisible mines and traps at key locations on the map and judiciously utilising his suicide attack to kill off enemy heroes whilst simultaneously dying and denying himself.
Techies (Dota 2) Brainwaves
7th September, 1 replies

The most anticipated Dota 2 hero has now been released. The infamous Techies has one of the most unorthodox...
Share Techies (Dota 2) with others