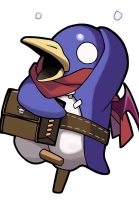 Hero Prinny is the main character in Prinny: Can I Really Be the Hero?. Randomly chosen from all the other Prinny, he is task with getting Etna the Ultra Dessert before tomorrow. He is an average Prinny, but wears a Red Scarf that protects him from exploding. Should he be defeated, another Prinny will take his place.
Hero Prinny appears as a DLC character in Disgaea 3: Absence of Justice. Unlike most of the DLC characters who have come to Evil Academy to become a teacher, Hero Prinny has come to defeat the dean. He's also available in the PSP version of Phantom Brave, entitled The Hermuda Triangle.
Hero Prinny Brainwaves
20th May, 0 replies

Nippon Ichi Software, the Japanese developer behind such titles as Phantom Brave, La Pucelle: Tactics,...
Share Hero Prinny with others