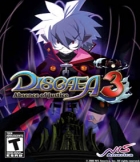 Disgaea 3: Absence of Justice is a tactical RPG and the third video game in the Disgaea series by Nippon Ichi, and the first to be released on the PlayStation 3. Like previous installments, battles are performed on isometric maps with a group of characters. The newly added "magichange" system allows monsters to transform into specific weapons in which a partner can use to execute a strong technical attack.
Mao, son of the Netherworld Overlord, has not once attended class since the beginning of school and is the #1 Honor Student. His ambition to overthrow his father and claim the title Overlord has lead Mao to seek becoming a hero, since the hero always defeats the villain. Along the way Mao gains the aid of many people, including his childhood friend Raspberyl, a meek hero from Earth named Almaz, and more.
Disgaea 3: Absence of Justice Brainwaves
15th May, 1 replies

Strategy RPG fans in Europe will be getting an early Christmas present in July, as NIS America has announced...
Share Disgaea 3: Absence of Justice with others
Disgaea 3: Absence of Justice