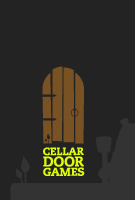 Latest Games
Developed by Bulkypix, Cellar Door Games for AND, iOS

4444 is a puzzle game developed by

Bulkypix

,

Cellar Door Games

and released on

Android

,

iOS

. 4444 is an action puzzle game with super easy to understand yet hard to master unique mechanics : four squares of the same colour and size merge to form a bigger square of the same colour, join them all into one and complete the levels. Players will face many enemies: monsters, time, often changing mechanics...

Developed by Cellar Door Games, Abstraction Games for LNX, MAC, WIN, PS3, PS4, PSV, XOne

Rogue Legacy is an action game developed by

Cellar Door Games

and released on

Linux

,

Mac OS

,

Microsoft Windows

. Rogue Legacy is a genealogical rogue-"LITE" where anyone can be a hero. Each time you die, your child will succeed you. Every child is unique. One child might be colorblind, another might have vertigo-- they could even be a dwarf. That's OK, because no one is perfect, and you don't have to be perfect to win this game. But you do have to be pretty darn good because this game is HARD. Fortunately, every time you die all the gold you've collected can be used to upgrade you manor, giving your next child a step up in life and another chance at vanquishing evil.
Cellar Door Games Brainwaves
9th July, 0 replies

A PlayStation Blog post by Teddy Lee, game designer at Cellar Door Games, has announced that PC hit Rogue...
Share Cellar Door Games with others