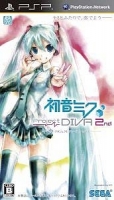 Project Diva Extend is a rythm game that features virtual idol Hatsune Miku and other Vocaloid characters such as Megurine Luka. The tracklist includes more than 40 songs created by various vocaloid composers.
Adding to the traditional ryhtm game gameplay, this game has an edit mode and a Diva Room. You can unlock numerous costumes as you progress in the game.
Hatsune Miku: Project Diva 2nd Brainwaves
6th June, 0 replies

Sega have announced their E3 line-up, but it's not exactly spectacular at this stage. Of course, there's...
Share Hatsune Miku: Project Diva 2nd with others
Hatsune Miku: Project Diva 2nd