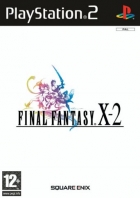 Final Fantasy X-2 is a role-playing game developed by Square Enix and released onPlayStation 2, PlayStation 3, PlayStation Vita. The game was a direct sequel to Final Fantasy X and while it received generally positive reviews and sales, the game suffered many critiques from the series fan base.
Despite this, the game was very popular. It is currently scheduled for rerelease on both the Playstation 3 and Playstation Vita as part of an HD collection. The PS3 version of the game will be bundled with Final Fantasy X while the Vita versions will have to be bought separately.
Final Fantasy X-2 Brainwaves
20th May, 1 replies

Final Fantasy X | X-2 HD Remaster (PS4) was the top selling game in Japan for the week ending May 17,...

11th May, 0 replies

Sony has announced all of the games that will be releasing this week on the PlayStation 4, PlayStation...

7th January, 0 replies

The sales figures are out for the last week of 2013 and they seem to say that Japanese gamers prefer...
Share Final Fantasy X-2 with others