Standard combat works similar to other RPGs with a real-time battle system. You control a character in a combat arena and perform attacks by pressing Square. To perform powerful skills, which eat HP, hold any directional button and press Square.
Singing Song Magic
As soon as a battle starts the singer will start to sing a song. As she sings, the Burst gauge will increase in percent at the bottom right of the screen. In general, the higher the percent the more damage your reyvateil will do.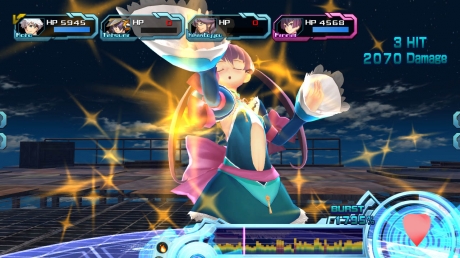 Also note that the Burst Gauge will always increase, but it goes up faster each time you Purge a level of clothing. This means that if you sit for 5 mins without Purging, you will have a lot less Burst percent than if you Purged once.
Reyvateil Field
The reyvateils are unique and vulnerable when they are singing a song. The field around them acts as a barrier for their personal space.
If an enemy invades that space, they will take damage and be unable to use their Song Magic. In order to prevent this, you need to hit CIRCLE to use the BLOW feature and knock the enemy out of the area. Be warned, BLOW takes time to refill once it is used. On the flip side, standing in the reyvateils field will also increase your recovery rate.
Using Song Magic
At any time, you can hit X to use the song magic your reyvateil has been singing. Note that every persona has their own Song Magic and area of effect. For example, one persona's Song Magic may affect every enemy in it's straight path while another may target an enemy with a circular area of effect around that target. As you purge, the area of effect will increase to be larger.
Purge
Purging, stripping, will make your reyvateil stronger. In order to purge, you need to watch the spinning heart in the bottom right corner of the screen. When it says "purge ready" hold down L1, L2, R1, or R2 and shake the controller.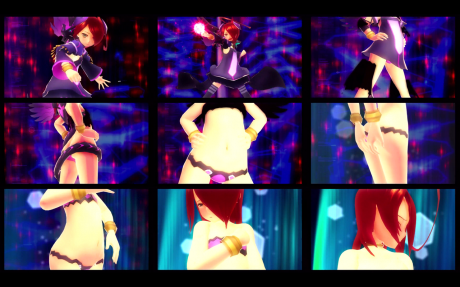 In order to get the "purge ready" you need to attack on the red notes during the song. Other ways to increase this are using supermove, cancelling enemy spells, or taking a large amount of damage at once. At first, your reyvateil will only be able to purge one level at a time. Eventually you will be able to purge four times and use your flipsphere. As you unlock their other purge levels, you will also be able to purge multiple times at once by getting enough beat ups and then holding 2 shoulder buttons at once.
Also if you wish to see the strip video, and you will if you want all the videos or like boobs, simply make sure you purge on a red note.
Flipsphere
The flipsphere will occur on your fourth purge and each persona has it's own flipsphere. Think of the flipsphere as a button pressing event; simply hit the X button when the peaks appear for a success. The more successes, the more damage you unleash.
Attaching Hyuma
Later, once you start to dive into the girls' cosmospheres, you will have access to Hyuma. These cute little girls can be added to the purge spots, through Song Synthesis to give benefits to the party when used. They can also change the battle music so there are more beat ups available.
In order to attach a Hyuma, simply go to an inn or save spot and use Song Synthesis. You can then attach a Hyuma to any spot you wish. Sometimes, you will get a Hyuma that is too high for your reyvateil (you gain higher levels or song synthesis based on how much she will strip for you). You can give her key items, that you buy, to increase this.
Supermoves
There are two kinds of supermoves, the normal and the ultra supermove. In order to use the normal ones, hold any directional button and hit SQUARE. This burns your HP, but will get purges faster as well. The ultra supermove can only be used when you have 30,000 % on the burst gauge. These are very powerful and have their own animation.