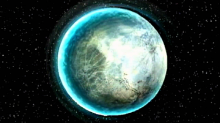 Aether is a rogue planet on the periphery of Galactic Federation territory and the home of the Luminoth. Decades before settling on Aether, the Luminoth were nomads traveling across the universe, but after encountering other "enlightened" races (including the Chozo) who had all settled on a single planet, the Luminoth decided to do the same, and chose Aether as their new homeworld.
Being a rogue planet, Aether depended entirely on its own energy source instead of sunlight. The Luminoth named it "The Light of Aether". The Light was so powerful that it threatened the planet's well-being, forcing the Luminoth to build multiple energy controllers to channel it. The Luminoth used the energy gathered in the controllers to power most of their creations, including a teleportation system and a weather control grid.
Everything changed, however, when a mysterious meteorite crashed into Aether and literally tore the planet apart. The rich plains of Agon were turned into an arid waste, the lush forests of Torvus became deluged with water and transformed into wet marshlands, and worst of all, the meteor brought with it a mutagenic substance called Phazon, which, combined with the Light of Aether, created a world called Dark Aether, a bleak, perverted replica of Aether.
Not long after, the Luminoth found themselves in war with a new race born on Dark Aether called the Ing. Though they developed technology specifically aimed at destroying the Ing, the Luminoth were far outnumbered, and the energy controllers fell into the hands of the Ing until only one remained. As The Light of Aether diminished, Aether became increasingly unstable, whereas Dark Aether thrived. The few remaining Luminoth retreated to the Great Temple, to wait for their impending doom. Or a miracle.