The legendary Phantom Thief of the Netherworld has stolen Etna's panties! Forced to look for them by sunrise, or else she'll turn them into panties, the Prinnies jump into action in search of a rare item to lure the Phantom Thief out with.
Difficulties
Hell's Finest
Hell's Finest is the hardest mode and allows no room for error by having a single hit cause the Prinnies explode.
Normal Mode
Normal Mode allows the Prinny to take three hits represented by three scarf icons in the lower left corner of the screen.
Baby Mode
Baby Mode replaces the scarf icons with diapers and areas that would normally deal damage are covered by destructible blocks.
Health & Death
Prinnies are fragile beings and tend to explode when roughed around. To prevent this, Etna has given one Hero Prinny a red scarf, similar to the one Laharl wears. This red scarf prevents the Prinny from exploding by giving you hit points, 0-3 depending on game difficulty, that when depleted will result in the Prinny being destroyed and a new Prinny will taking it's place, giving you a total of 1,000 lives for the 1,000 Prinny Squad size.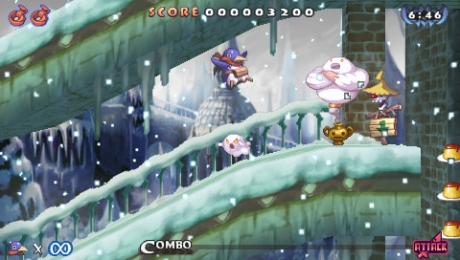 Facilities
Facilities are a new feature to Prinny 2 and they grant special items, abilities, and playable characters. To activate a facility, you must obtain the appropriate Invitation from a Presenter, give it to the Concierge NPC, then purchase the facility from the NPC.
Collectibles
-
Asagi Wars: The Vengeance of Asagi
An alternate story in which Prinny Asagi and Flonne are watching TV, when a promo for a new tournament called Asagi Wars appears. Various Asagi doppelgängers have entered in the tournament, but Prinny Asagi, despite being the real Asagi, was not invited to the tournament. When she hears that "outside interference is encouraged", Asagi goes out to get vengeance on her doppelgängers.
Unlike the original gameplay, Prinny Asagi doesn't have a hit count to determine health; instead, her health is determined by the Ratings Gauge. By performing flashy moves and following the audience, the Ratings Gauge will fill up. When Asagi takes damage, the Ratings Gauge will drop. If the Ratings Gauge reaches 0.00%, Prinny Asagi automatically explodes.