Hope's Peak Academy is holding its school trip at Jabberwock Island—a tropical island famous for being a popular vacation resort. But thanks to the actions of their wicked headmaster, the students quickly realize that they are not leaving this island any time soon. Their only chance of escape is to murder one of their classmates, and survive the class trial without getting caught.
Game Flow
The main story follows the same game flow as the first game, where you can spend some time with your fellow students until a murder happens, which will allow the player to investigate. That will bring about the Class Trial, where you will have to find and name the culprit of the murders.
Island Life
Island Life is split into two different periods, with the first being where you can speak to your fellow classmates, learn about them and even give them presents. These presents can be purchased with Monocoins, from both the Monomono Yachine and a vending machine.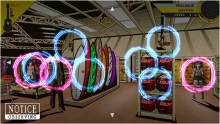 However, once a murder happens and it is found out by others, the other period will begin. You now must investigate to find clues that will help later in the Class Trial. While doing this, you will earn Truth Bullets that will allow you to perform certain actions during the Class Trial.
Class Trial
The Class Trial happens when a murder has occurred and you have finished with your investigation. The ultimate goal of the Class Trial is to find out who the culprit is, although there will be many twists and turns along the way. If you are correct in determining the culprit, then s/he will be punished, but if you are wrong in your assumption, then everyone else (including you) will be punished.
Before beginning the trial, you are able to assign skills that you earn throughout the game during the Island Life portion. These skills vary in their use, such as one being able to extend your Focus Gauge. You are only able to equip as many skills as Skill Points you have. While some aspects of the Class Trial return, some have new elements and there are even new elements.
Nonstop Debate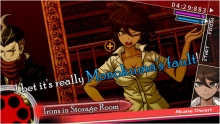 This occurs whenever the students need something to be clarified, and is where you use the Truth Bullets gotten during your investigation in the Island Life segment. You can shoot down the arguments that you consider weak, with yellow ones being false statements and blue ones being ones you think are true. If what you point out is wrong or irrelevant, then the other students will mistrust you and your Influence Gauge will lower.
Hangman's Gambit
This occurs whenever you need to assemble an important keyword. Letters will appear on the screen and will move around, sometimes colliding with each other. If this happens, then you will receive damage. Your goal here is to arrange the letters for the keyword in the proper order. If letters are about to collide, you can capture it and then release it where the reticule is.
Rebuttal Showdown
A new element added to Danganronpa 2, where the students will outright deny your argument during the trial. You can cut statements in the student's argument as a counterattack, which is used to gain an advantage over them. The whole point of this is to find the weak point in their argument and refute it.
Logic Dive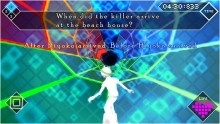 Logic Dive is a new element, where you play a minigame and skate down a tube and are presented with choices. If you choose the wrong option, then you will fall and take some damage. This option activates whenever the main character needs to collect their thoughts.
Closing Argument
Similar to the closing argument in the previous game, players will have to piece together their evidence onto a comic strip to figure out the crime and the culprit. Unlike in Trigger Happy Havoc, where players would be able to view all scenes and have all evidence, players will have access to a single page and will move on to the next when that has been filled.
Extra Game Modes
As with Trigger Happy Havoc, there are some extra game modes that unlock after completing the regular story mode.
Danganronpa IF
This is a short story that is unlocked after completing the story once. It depicts an alternate storyline of the events that happened in Trigger Happy Havoc. Players can stop reading, insert a bookmark and then go back to reading where they left off at a later time.
Dangan Island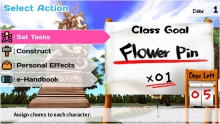 Available after completing the story once, this mode plays similar to the School Life mode in the first game. Players will not be forced to have to play Monokuma's game and are able to enjoy the field trip to the island. You can develop relationships with your other classmates, and achieve goals that have been assigned to you by Usami.
Magical Miracle Girl Monomi
Players will control Monomi/Usami in this minigame, which is an action game that has you drawing circles to unleash her magic to defeat enemies called Monobeasts.