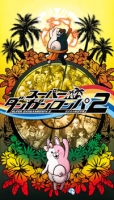 Danganronpa 2: Goodbye Despair is an interactive graphic novel developed by Spike for the PlayStation Portable. It is the sequel to Danganronpa: Trigger Happy Havoc and has the same premise as the first game, but takes place on a deserted tropical island called Jabberwock. The game was later remade, along with the first, for the PlayStation Vita.
Hope's Peak Academy is holding its school trip at Jabberwock Island—a tropical island famous for being a popular vacation resort. But thanks to the actions of their wicked headmaster, the students quickly realize that they are not leaving this island any time soon. Their only chance of escape is to murder one of their classmates, and survive the class trial without getting caught.
Danganronpa 2: Goodbye Despair Brainwaves
19 days ago, 0 replies

'Narrative? That's just stories, aye?' Sam said, leaning back in his chair. 'Why not just call it Best...

22 days ago, 0 replies

In 2014, as much as in past years, there were a number of games that simply weren't get noticed by...

23 days ago, 0 replies

2014 was a big year for Adventure gaming, with genre icon Tim Schafer returning with the first chapter...
Share Danganronpa 2: Goodbye Despair with others
Danganronpa 2: Goodbye Despair