World Map
Like the previous Neptunia games, the World Map is a menu where you can select locations and view the overall shares in the world.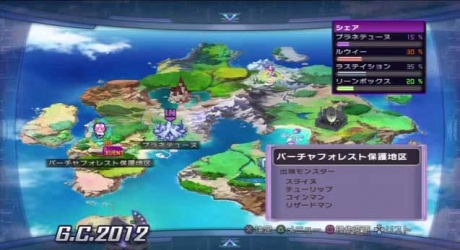 World Shares
Unlike the previous game, Hyperdimenion Neptunia mk2, where shares would determine the ultimate ending that the player received, the shares in this game are simply world status indicators. They do not affect the end of the game, but they do affect your chapter end evaluation.
Town Maps
Similar to the Chirper in Hyperdimension Neptunia Mk2, you do not actually move around on a map in town. Instead, you will see an overview of the town and click on people or shops for dialog or view the shop listing.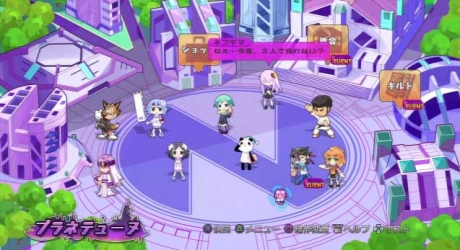 That being said, the player can still change the map mode to something similar to the Chirper which lists all all locations on a sidebar.
Shops
The shops are where you Buy and Sell items. These update after story event, so make sure you check them often.
Basilicom
The Basiclicom, known as the Base, is where you can watch previous events, view previous event CG's, listen to the game's BGM. You can also talk to the CPU, CPU Candidates, and Basilicom Oracles. Additionally, the start of every chapter will feature some broadcasts from the Nepstation that include info, shopping offers, and quizes.
Scout System
Inside the Basilicom you can also access the Scout System. This system allows you to send NPC scouts to any dungeon in hopes of finding items, money, new dungeons, more powerful monsters, and new scouts.
How it works is that any scout sent to a dungeon within a certain region has the ability to discover new dungeons within that area. For example, if you send a scout to Otorii Great Forest in Planeptune, that scout has the ability to find other unlockable dungeons in Planeptune and Planeptune only.
The Guild
The Guild is where you can sign up for and report your Quests. Quests are the way in which you increase a towns shares and each town has their own quests, so check often and accept quests for areas you are going to be visiting. Be careful when doing quests multiple times, as repetitive quest accepting can lower your chapter rank. Note that Quests that increase your Quest Rank will be marked with the Advancement Test title and quests that advance the story are marked with brackets.
Hunting Quests: Kill a certin number of enemies
Item Delivery Quests: Collect a certain number of items
Time-sensitive Quests:
Repeatable Quests: Can complete multiple times
Item Development
Item Development is the area where you can sythesis items. In order to make an item you need a few things: a Product Proposal, certain ingredients, and sometimes you will need a partner and a certain Lily Rank. Characters with low Lily Rank can not participate in item development. Note that some items will appear in the shops once you make them through item development.
Dungeon Maps
Dungeon Maps are the area where you encounter enemies, find items, and spend all of your time when you are not in town.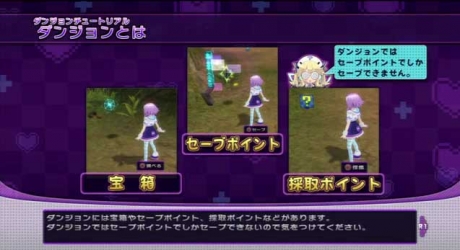 There are four interaction type events you can find on a dungeon map:
Treasure - These are marked as blue floating squares and contain set items.
Hidden Treasure - As you travel through the map, press Square to emit a field that reveals any nearby treasures. These can be valuable items, such as weapons, so get used to pushing this a lot.
Save Points - Marked with a S on the map, these are the only place in a dungeon where you can save your game.
Gather Items - Examine to ? to gather a random set of items per dungeon.
Encounter Enemies - You can engage enemies by either running into them or swinging your sword with O for a Symbol Attack - see Combat
There are also objective markers on the map, in the shape of crystal shards, that lead you to whatever or wherever you are supposed to go. In general, you do not want to approach these markers until you are ready to advance.
Partners
Unlike normal back and front rows in most RPG's, partners in the back rows will not appear in battle unless you switch them in. This means that in the beginning of the game you will probably not want to create Partners, since you will have only 2-3 characters active in battle.
Lily Rank
By partnering two people together you can increase the Lily Rank between them and the front row fighter receives Support Effects and Assists from it's rear member. The higher the Lily Rank between the front and back partner, the better support the front row will receive.
Support Effects
The support effect is the bonus that your front row character will recieve if that character is placed in the back row. Note that unlike the previous games, where Lily Rank was primarily used for endings, the Lily Rank's bonus and can be viewed in detail by hitting Triangle in the Partner Setup menu.