Welcome to the Clash of Clans Cheats and Codes and Tips page where our team of contributors will help you with a set of cheats, codes, hints, tips and unlockables.
If you are stuck on something specific and are unable to find any answers on our Clash of Clans Cheats page then be sure to ask the Clash of Clans Forum / Community for help and advice in the discussion box below and they will get back to you as soon as possible with an answer!
Tips and Strategies
Unit Selection
In singleplayer mode it isn't possible to view each level before starting the battle, so don't be afraid to pick a few weak troops and lose on purpose to get an idea of the layout.
Three Stars
In order to get a three star rating for each goblin level you're going to need to destroy everything to get the maximum bonuses.
Defense vs. Offense?
While focusing on one of the other is possible, a little bit of both is suggested. It is no good putting out all your units to decimate the enemy if one enemy unit in your base can tear it apart due to no defense. Make sure your Town Hall and Resource Collectors are guarded by cannon-fire and don't forget to upgrade your defensive units over time.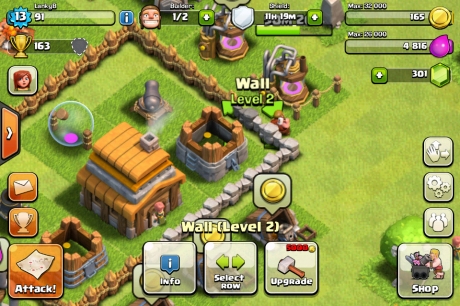 Making More Space
Before clearing any space you want to think carefully. The bigger the object you plan to destroy, the more resources it will cost so clearing out a bunch of smaller items is cheaper. Thinking about size and placement before doing anything will allow you to be more efficent.
Getting Ahead without Spending Money
In order to make money you will need to spend money. To minimize your down-time, without having to spend real life money, make upgrading your Resource Collectors a priority.
Save Your Gems = Saving Money
Don't use your gems on just anything, instead save them for important purchases. Early in the game it may be tempting to use gems to speed up the process of building and training, but this will cause you to be behind in the long run. Do not give in to your impatience or you will end up spending real money just like the developers want.