Welcome to The Simpsons: Tapped Out Cheats and Codes and Tips page where our team of contributors will help you with a set of cheats, codes, hints, tips and unlockables.
If you are stuck on something specific and are unable to find any answers on our The Simpsons: Tapped Out Cheats page then be sure to ask The Simpsons: Tapped Out Forum / Communityfor help and advice in the discussion box below and they will get back to you as soon as possible with an answer!
DO NOT POST HACKS ON THIS PAGE!
Tips and Strategies
Donut Exchange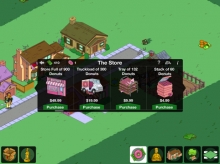 We all love donuts, but in the Simpsons: Tapped out we love them for different reasons. Donuts prove useful for speeding up tasks and purchasing various items and even characters. They are quite hard to earn from simply playing the game, but that being said you can easily visit the virtual shop to buy some.
You can also use donuts to exchange for money:
5 Donuts = 500 Money
9 Donuts = 1,000 Money
21 Donuts = 2,500 Money
41 Donuts = 5,000 Money
80 Donuts = 10,000 Money
115 Donuts = 15,000 Money
Businesses = Money & Missions
Homes and businesses earn you money all day, even when offline, and also prove useful for sending characters on missions. For instance, you cannot tell Ned Flanders to go to church if there is no Church for him to go to.
Each character has their own set of unique missions. These missions closely relate to the characters we see on the hit tv show. For example, you can send Cletus off to brew moonshine or have Bart skive from school on his skateboard. The missions range from just a few seconds to 24 hours. But of course, you can finish them instantly with Donuts (mmm). If you don't mind waiting you can see how long a character has left on a mission by simply tapping them and a progress bar will pop up.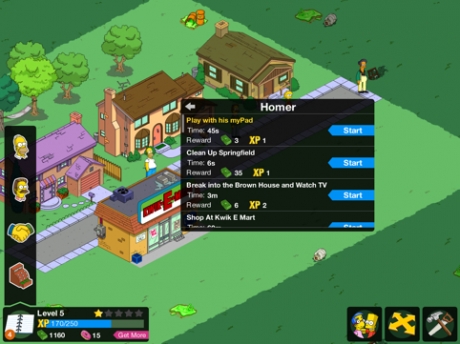 Conform-o-meter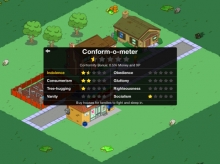 The Conform-O-Meter, keeps a track of your accomplishments as you progress through the game. You can earn up to 5 stars in each category. The categories are:
Indolence: Buy houses for families to fight and sleep in
Consumerism: Buy stores to get suckers to drop dough
Tree Hugging: Buy plants to make your town greener
Vanity: Buy decorations to beautify your town
Obedience: Buy public buildings to keep society docile
Gluttony: Buy restaurants for people too lazy to cook
Righteousness: Keep criminals and graffiti off the streets
Socialism: Make friends and visit them
To check your progress you simply tap the five stars on the bottom left corner of the screen.
Keeping Track
The bottom left hand corner of the screen is where most of the major information regarding your gameplay is. There you can check how much Money and Donuts you have, what level you are currently on, points needed to level up and number of available missions there are. By pressing the pink 'Get More' label you can get more Donuts.
Cletus and his Farm
When you unlock the character of Cletus you also unlock the ability grow a variety of plants that bring in more Money and XP. Well, not weeds...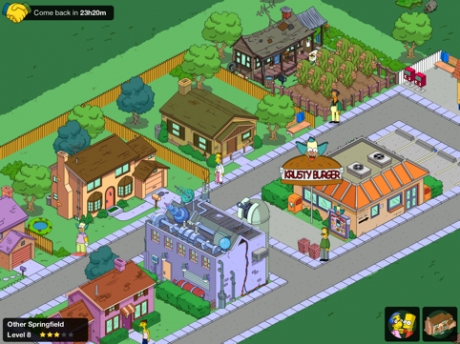 Perfection (Cost- 2 Money, Grow Time- 45 seconds): 10 Money, 2 XP Tomacco (Cost- 15 Money, Grow Time- 60 minutes): 75 Money, 20 XP Silvertongue (Cost- 55 Money, Grow Time- 8 hours): 275 Money, 75 XP Triffids (Cost- 80 Money, Grow Time- 12 hours): End of Humanity Moonshine (Cost- 150 Money, Grow Time- 24 hours): 600 Money, 150 XP Corn. Actual Corn (Cost- 9,000 Money, Grow Time- 90 days): 45,000 Money, 9,000 XP
Again, you can speed up the growing process of each plant by using Donuts.
Adding Friends & Free Donuts
Once you have signed up for/logged into a free Origin account (which you get 2 Donuts for), you can visit a friend's Springfield and tap up to three buildings to collect rewards. This is only available to do once every day. You also get 5 Donuts for inviting friends.
Clean up Springfield
Since Springfield has been destroyed there is a lot of debris and toxic sludge. Have Homer and Lisa clean up all the debris and this will get you some Money and free up some land for you to build on. You can't build or move something onto garbage.
Free Resources
Roads, pavements and rivers are free so always seek to rapidly expand.
Moving Objects
If you do not like where you have placed something move and/or rotate it by clicking the four directional arrows on the lower right. From there, tap the desired object. From there you can change its direction, move it somewhere else, store it in your inventory or even sell it for some Money.
Premium Stuff
Special items on the menu imbue the town to lucrative bonuses. To see the current list click the build icon on the lower right (saw and hammer) then click the Homer Buddha. Some of the stuff available are:
Orange Tree (15 Donuts): 0.50 percent bonus money and all XP
Squeaky Voice Teen (30 Donuts): This character's jobs earn 50 percent more money and XP
Lard Land Donuts (110 Donuts): Earns 125 Money and 13 XP every four hours.
Duffy Brewery (190 Donuts): Earns 200 Money and 20 XP every six hours.
Mystery Box (6 Donuts): Win Lard Lad Donuts, Tire Fire, Squeaky Voice Teen or Donuts!