The Tackle Box is the main storage building for items produced by the Lure Workbench or the Net Maker. At the start of the game the Tackle Box is already standing in the fishing area.
The initial capacity of the Tackle Box is 20 items, but this increases as the game progresses.
Upgrading the Tackle Box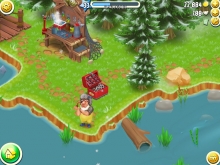 Using nails, screws and wood panels found in Mystery Boxes, found among crafted items and crops, or bought for 8 diamonds per missing piece, the Tackle Box can be upgraded.
Upgrading the Tackle Box will increase its capacity, each upgrade requiring additional quantites of each piece of supply to be completed.