Hay Day is a free-to-play faming simulation game that features microtransactions for in game items to aid the player in the activities.
Get back to nature and experience the peaceful, simple life of working the land and rearing chickens, pigs, cows and sheep. Make a name for yourself by harvesting crops and building bakeries, sugar mills and dairies that turn your fresh produce into wholesome goods you can trade with your friends at your very own Farmer's Market.
Learning the Basics
Mr. Wicker is a scarecrow who will help guide you through the game and build your farm. If you find that you are unsure about what action you need to complete next you can always check with Mr. Wicker. He will often have helpful advice you can follow so that you can make sure you are always making the best decision possible.
Building Your Farm
Your farm will consist of animals and crops, both are important for keeping a stable income.
Planting Crops
Tap on any empty plot and then on one of the available crops. Drag the crop around the plots until all of the empty ones have seeds planted in them.
Once a crop fully grows, it will multiply the supply you own. You will always be making money from each crop that you plant, so make sure that you always have crops growing even if you won't have time to harvest them for a while.
Harvesting Crops
One of the first things you will need to learn is how to harvest crops. To harvest crops simply tap on them when they are fully grown.
Once they are fully grown, tap on one square of crop and then on the scythe icon that pops up. You can hold on the scythe and then drag across the entire group of crops to harvest them at once.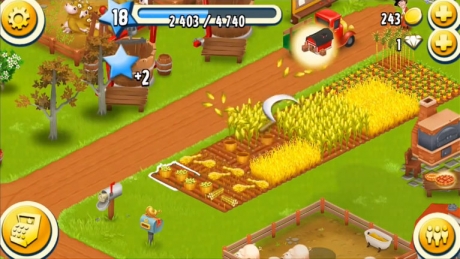 Buying Animals
Barnyard animals are a crucial part of whether you are successful or not. There will be an animal pen located on your farm that you can tap to access the animal store menu.
From here there will be various tabs you can pick from. In the animals section you can purchase several types of animals including, chickens, cows, pigs, sheep and many more.
To buy an animal tap on it and then drag it to the animal pen. This will buy the animal.
Feeding Animals
To feed your animals tap on the hut within the pen.
From here you can tap and drag on the feed to feed it to your animals. When your animals are fed, they are happier and perform better in their roles. For example, chickens are happier laying eggs.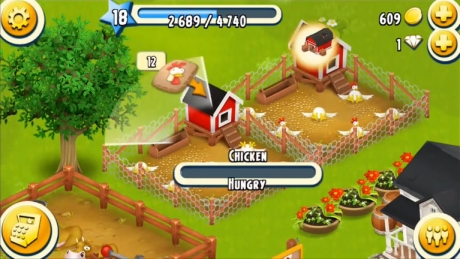 Collecting Animal Production
Most animals provide an item, such as chickens lay eggs. These can be collected once ready to be harvested by clicking on the hut and using the provided gathering item, such as a basket for eggs or sheers for wool, and draging over the animal.
Buildings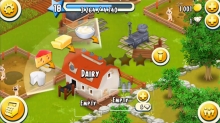 Buildings are needed to create new items by using the items produced by your crops and animals. For example, items like milk from cows and eggs from chickens can be used to make goods in the Bakery, which can then be sold to generate money.
To purchase buildings, tap on the cash register icon in the bottom left corner of the screen. From here you can tap the buildings tab (third option) and then drag a building to your farm.
Once placed, you can now drag items into it to start creating new items like butter and cheese or even pizza.
Currency
There are three types of currency in the game: coins, diamonds, and vouchers.
Coins are the main currency in the game and can be used to purchase buildings, animals, and roadside shops on other player's farms. They can be earned from selling goods to npcs or through truck orders and in your own roadside shop.
Diamonds are the freemium items that allow you to instantly ignore any wait times on your farm. At the start of the game, players are given 30 diamonds and more can be earned by completing achievements in the game or found in locked boxes.
Vouchers become available at level 20 and are earned by completing boat orders or orders for precious metals. They are used to buy special items, including pets and decorations, as well as creating lures.
Delivery Truck
Another additional way to make money is via the delivery truck. The billboard found on your farm will have orders available on it. If you have the required items you can send them out via the delivery truck for a cash reward.