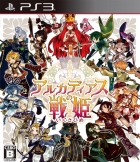 Battle of Princess Arcadia is a side-scrolling action role-playing game being developed and published by Nippon Ichi Software, for the PlayStation 3. The game is slated for release on September 26, 2013, in Japan and it follows the story of Plume, the princess of the Schwert Kingdom, as she defends her country from a plethora of monsters.
Battle Princess of Arcadias Brainwaves
14th February, 0 replies

Nippon Ichi Software are best known for their work on the Disgaea series, along with several smaller...
Share Battle Princess of Arcadias with others
Battle Princess of Arcadias