War Thunder is set between pre-World War II and the early Korean War. The game contains various aircraft models, armored vehicles, and ships for players to control. The game has a wide range of detailed maps from various war periods with massive maps that will accommodate every player.
Single Player and Co-op
Dynamic Campaign
In the Dynamic Campaign you can take part in some of the most important aerial battles of the World War II, and fight in key places such as Malta, Stalingrad, Pearl Harbour, Berlin and many other battles through the campaign. This game mode is called "dynamic" because the outcome of the battle in which you play will influence the rest of the campaign : if you win the battle the front will advance, if you lose it you'll lose the territory you were fighting for.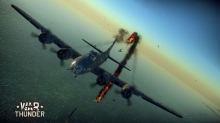 Test Flights
This mode is very useful for any new player that plays the game for the first time, but even for a regular player who wants to try out a new plane. Here, you can exercise your take-offs, landings, flying maneuvers and you can learn how to use flight instruments. Also test flights have other practical uses for players to master, such as getting used with the armament, especially with bomb loads.
Custom Battles
To join a custom battle you must achieve rank 1 in any Nation. You can choose from a variety of maps the following missions :
Ground Strike : designed for a simplified difficulty, where you must support your ground units and destroy enemy troops ; by every enemy unit destroyed, the enemy will lose points.
Operations : designed for realistic difficulty, where the main objective is the same as in Ground Strike mode, but it may include bridges, bombing points and even air targets.
Current Events : playable maps released during special events.
Domination : you must capture and hold airfields by landing on them until they're captured by your team and defending them from enemy planes and ground units.
Air Domination : here, instead of holding airfields you must hold "air zones" by standing in a certain area of the map.
Duels : contains maps in which players are spawned close to each other in a way they can only engage one to one fights.
In custom battles you can also set difficulty, time, weather, fuel and ammo, respawns, friends-only game, password, mission rotation, include bots, auto balance, number of players and a country section.

Single Missions
In single missions you will find 4 big fronts that can be unlocked by increasing your rank in various nations. In the Pacific Ocean, Eastern, Western and Mediteranean fronts you will be assigned on a specific aircraft and for a mission.
Mission Editor
This game mode allows players to fly in various maps, with designated objectives and combat types, with up to 4 other players as teammates and enemy aircrafts . Players will earn silver lions and experience for this kind of missions.
Multiplayer
Historic Battles
The Historic Battle mode is considered to be a more advanced mode. As such, sniping from great distances will be considered more difficult in this mode as well as more realistic damage to players, tanks and aircraft. Moving too fast in certain aircrafts can cause characters to blackout from the g-forces and planes to tear apart as well. Besides the challenges, players are able to recreate realistic battles that actually happened in past Korean and World Wars.

Arcade Battles
The Arcade Battle mode is a more simplified version of Historical Battle. Here, the aircraft doesn't gain damage as realistically and planes don't rip apart at high speed. Though some features do remain, such as the differences in the speed of plane types. This mode allows up to 32 players to participate with two teams that oppose each other in either Ground Strike or Domination Modes. Ground strike requires players to finish off all ground units to win, while Domination requires teams to take over enemy airfields with points granted and lost based on territory gained. Lastly, real world war scenarios cannot happen in this mode unlike Historical Battles.
Full Real Battles
Full Real Battle mode is the game's most realistic mode focusing on giving the player the most realistic simulation feeling that it can. The only view available is from the cockpit and this cannot be changed at all. This mode also removes all icons from the air and the map making mastering this

mode a real challenge. This mode features a Full Real controls setup which gives the player control of the unique capabilities and controls of the specific model plane thei're flying.
Ranking and Experience
After each battle you earn experience which is divided in percentages that go to your aircraft experience, pilot level and free experience and to the nation experience.
Aircraft Experience
The aircraft experience depends on the things you do in the game, like : kills, landings, assists and so on. With certain amounts of aircraft experience you'll be able to unlock different modifications and ammo racks for your plane.
Pilot Level and Free Experience
A player's maximum rank is 100, and it's used to show the amount of experience gained from all the nations he played with. Unique pilot icons are unlocked by leveling up. You can convert your free experience to your

nation's air force ranks for golden eagles (coin used in the game). The current conversion ratio is 1 Golden Eagle = 1500 Experience.
Nation Ranks
After playing a battle for a nation, the experience earned goes to your rank in that nation. With this experience you can buy planes from that nation.
Interface
Plane Selection Screen
Once you enter a game mode, your plane selection screen will show up. This screen contains the match time remaining, a plane selection panel where you must select a plane to spawn in and you also have other backup planes for when your first plane is shot down, weapons, shell racks (ammo configuration you'll use in battle), camouflage, gun targeting distance, vertical targeting, bomb activation time, fuel amount, respawn base and map objectives.
Third Person View
Mostly used by beginners, from this view you can see the whole plane, damage taken, enemy planes and you can land more safely.
Virtual Cockpit View
From this view, it's easier to manage your angle of attack using the Pitch Ladder. Virtual cockpit view is like cockpit view, but without the actual cockpit.
Cockpit View
The planes have various cockpits modeled exactly as in authentic planes. Every indicator and lever from the cockpit indicates the exact and correct value within every action made by the player.

Gunner View
The gunner view, available just in bombers, is best used when you're defending from an attacking plane. In this view

you'll control a gunner seated in the back of the plane that has a regular or large-caliber machine gun. If you're controlling the plane and not the gunner, he will shoot automatically if a plane attacks you, but you can control him any time and try to shoot the enemy aircraft yourself.
Bomb Sight View
This view is used to accurately drop bombs. While you're in this view, the plane will maintain a constant altitude and speed.
Squads
In War Thunder you can team up from two to four players and form squads. The squad players will have green name tags in-game and they can use a squad voice chat.
Crew Skills
Pilot Skills
The pilot skills consist in keen vision (the pilot's visual range), visibility (how easily the enemy can detect your aircraft), g-tolerance, stamina and vitality.
Gunners skills
These skills won't affect the player, as the gunners are controlled by the computer. They contain the number of experienced gunners, fire accuracy, fire precision, g-tolerance, stamina and vitality.
Ground Services
Ground services skills include repair speed (the speed at which your aircraft is repaired by mechanics while on an airfield), repair rank (maximum rank of aircraft that engineers can repair), reload speed (the speed at which your weapons are reloaded) and healing speed.