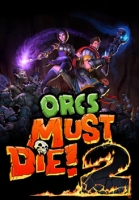 Orcs Must Die! 2 is a tower defense strategy game developed by Robot Entertainment for Microsoft Windows. It is a sequel to Orcs Must Die! and takes place a few days after the events of the first game.
The Sorceress is hiding from The Mob when mysteriously, a Rift opens next to her. She steps through, and finds herself in the Dwarven Mines, right in front of The War Mage, who now works at the mines. Enlisting his help in fighting off the Orcs, the two discover that more and more rifts are opening in different locations across the land. Deciding to enter the rift and return to the Dead World, it is revealed that the War Mage's master had not died.
Orcs Must Die! 2 Brainwaves
4th December, 0 replies

Just when you thought you would be able to escape with the ending of the Humble Android Bundle, they...
Share Orcs Must Die! 2 with others