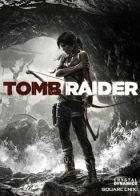 Tomb Raider is an action-adventure video game and the fifth Tomb Raider to be developed by Crystal Dynamics. Published by Square Enix, it was released for PlayStation 3, Xbox 360 and Microsoft Windows. A reboot of the series, it explores the intense and gritty origin of Lara Croft and her ascent from a frightened young woman to a hardened survivor.
When the inexperienced Lara Croft, a 21-year-old recent college graduate, went looking for adventure with Captain Conrad Roth aboard the ship Endurance, adventure found her. Searching for the Lost Fleet of Kublai Khan off the coast of Japan, the ship encounters a violet storm and Lara and her team are stranded on a strange island in the Devil's Triangle.
Tomb Raider (2013) Brainwaves
7th December, 0 replies

Missed out on Tomb Raider earlier in the year? Got a PS4 or Xbox One? Well, according to a leaked ad...

1st August, 0 replies

The news of a sequel to the critically acclaimed Tomb Raider reboot comes courtesy of Square Enix's North...

2nd May, 0 replies

A couple of months ago we reported on rumours that the Legacy of Kain series was in the process of being...
Share Tomb Raider (2013) with others