Zumba Fitness: World Party is the latest entry in the Zumba Fitness series of dance and fitness games, it is also the franchise's first 'next-gen' edition. As in previous games in the series, players replicate the dance moves made by the dance characters in the game, the idea being to get fit but do so in a more enjoyable way than traditional exercise routines.
As the name implies, the series is inspired by the Zumba dance fitness system, created by the Colombian dancer Alberto Perez. It combines a number of different active dance styles with aerobic fitness.
Dance Styles
World Party features a number of varied dance styles and regimes from all over the world. Some of the dance types found in the game include:
African
Brazilian Funk
Disco
Jazz
Jive
Each dance and fitness 'class' is headed by a number of dancers, including celebrity Zumba instructors Gina Grant and Kass Martin, and the game will take you on a tour of the world to experience these different dance and music styles, with a number of different backgrounds.
Music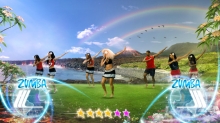 Music from a number of artists from all over the world will provide the motivational backdrop to your Zumba workouts. From pop superstars like Lady GaGa, to breakout artists like ZZ Ward, to classic singers like Herb Alpert, World Party features over 40 different tracks to exercise and dance to.
For a complete list of confirmed music tracks, check out of Track List page.
Platform-Specific Features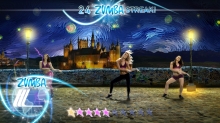 Zumba Fitness: World party is releasing on the Nintendo Wii, Wii U, Xbox 360 and Xbox One, and these versions contain different platform-specific features.
The Xbox version includes achievements, Kinect-enabled voice controlled menus, and online leaderboards.
Meanwhile the Wii and Wii U versions allow for up to four players to take part simultaneously (the Xbox versions only support two player Zumba classes).