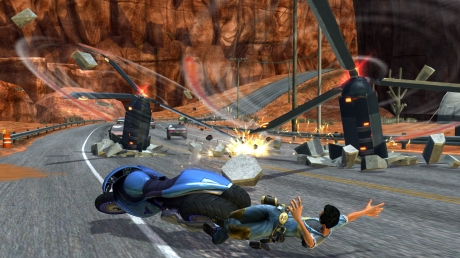 LocoCycle is an action, combat driving game. Players take on the role of I.R.I.S, a sentient light cycle voiced by Lisa Foiles, who has a Spanish mechanic (called Pablo) chained to her which she drags around.
The player is relentlessly pursued by the game's primary antagonist, another sentient light cycle called S.P.I.K.E (voiced by Robert Patrick). So I.R.I.S and Pablo must shoot, fight, and race their way to freedom. The story cinematics will be included as live action scenes.
Combat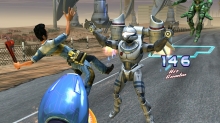 I.R.I.S is actually an assassin, having trained at the Big Arms Academy's School of Assassination, capable of performing over 40 combat moves and using advanced weaponry, moving at 180 miles an hour, and speaking 50 languages. You also have a cloak module which allows I.R.I.S. to become invisible.
Combat can be separated into two main categories, ranged and melee. In addition to that, there are moments when you have Quick-Time Events (QTEs).
Ranged
I.R.I.S is also equipped with a wide variety of weapons, including blades, handguns, and even nuclear technology.
As you're driving through traffic, you must constantly use your mounted machine guns in order to take down your enemies. Some require more damage and tactic to be taken down while others will fall easily.
Melee
Melee combat is performed by I.R.I.S. lifting her front or rear wheel up and punching her enemies. Enemies can also be knocked into the air, allowing I.R.I.S to juggle them and perform combos. Each face button corresponds to a different attack type, whilst the A button is used to counter enemy moves.
Recovery and Upgrades
As you fight your way through the game, your bike will get damage and deteriorate. You must visit a mechanic which will repair I.R.I.S.'s damage in less than a minute to get her back to action. You will use your controller to find broken parts, initiate time events and repair the bike.
In addition to recovering from damage, you also get the ability to upgrade I.R.I.S. You use experience you earn during the stages to buy these upgrades, which can include an increase in weapon damage and even adding elemental effects to combos.
Missions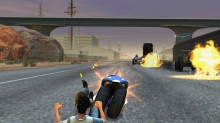 LocoCycle isn't just about getting from the start to the end of each level. Throughout levels there are mid-mission objects to complete in order to proceed (one example given is the need to destroy an SUV within a time limit).
There will also be mini-bosses, quick time events, and checkpoints. At each checkpoint you'll receive a rating based on your performance so far, thus adding an extra recursive layer to the game.