EA Sports UFC is a mixed martial arts fighting game based on the Ultimate Fighting Championship (UFC). Players play as one of dozens of UFC stars as they take on the best in the industry in what has become one of the most rapidly growing sporting sub genres in video gaming.
EA Sports UFC is the first entry in the franchise from Electronic Arts and will introduce a number of improvements to the formula that proved successful for THQ.
Ignite Game Engine
The Ignite game engine for EA Sports UFC will offer many advantages over the engine used in previous games by THQ.
Unprecedented Fighter Likeness
Many of these improvements come from more advanced graphical technology, courtesy of the Ignite game engine. One such improvement is to fighter likeness; characters are fully licensed and look more realistic than ever before. Graphical improvements allow for more advanced facial expressions and character emotion.
Body Deformation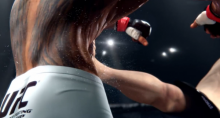 Full body deformation is a new feature for the series. Characters' bodies will move realistically, with body contact causing fighters' flesh to be displaced. For the first time you'll be able to truly see the impact that these moves have in real life in a video game.
Precision Movement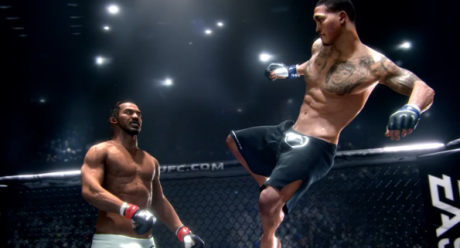 The new Ignite game engine also allows for more realistic physics, making for more believable movement in the ring.
Real-Time Exertion
Real-Time Exertion introduces the physical pressures and demands experienced by real MMA fighters to your in-game experience. Over time, fighters will tire; the skin colour will change, their bodies will take damage causing bruises or cuts, and signs of fatigue will begin to show.
Damage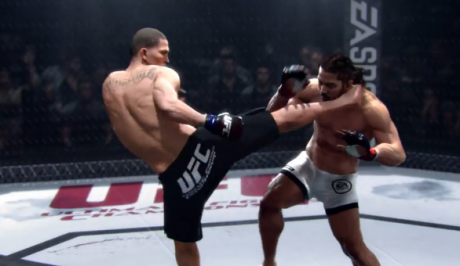 EA Sports UFC introduces more lifelike damage features. Players will take appropriate cuts and bruises. Damage taken is also non-linear for the first time - a well placed punch, much like in real-life, can potentially deal massive damage.
MMAi
Each licensed fighter in the game will have their own goals and fighting plans/styles, based on their real-life actions. Tougher opponents will feature more intelligent AI, resulting in more varied and unpredictable fights.
Submission Battles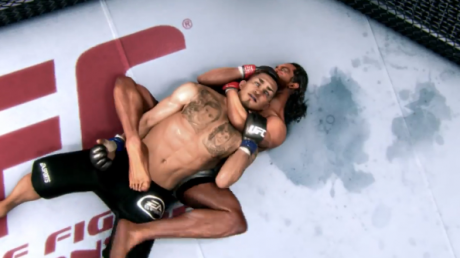 The ground gameplay has been reworked in EA Sports UFC. Submission battles are now a battle of position and control that more accurately reflects the real sport, with players working through multiple stages of submissions in order to press their advantage or escape the hold.
Dynamic Striking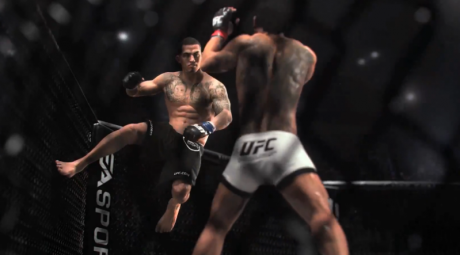 The cage can be used to produce more dynamic moves, including roundhouse kicks and superman punches.