Welcome to the Despicable Me: Minion Rush Cheats and Codes and Tips page where our team of contributors will help you with a set of cheats, codes, hints, tips and unlockables.
If you are stuck on something specific and are unable to find any answers on our Despicable Me: Minion Rush Cheats page then be sure to ask the Despicable Me: Minion Rush Forum / Community for help and advice in the discussion box below and they will get back to you as soon as possible with an answer!
Tips and Strategies
Survival of the Fittest
The game isn't all about grabbing every last banana, but about survival. If you run out of lives you fail, no matter how many bananas you grab, so when you encounter large patches of green runway get ready to take control of your minion using your device's tilt functionality as these areas are particularly slippery.
Preparation, Think Ahead
You can switch lanes whilst in mid-air. This is essential for surviving an obstacle so don't forget to keep looking ahead and prepare your moves.
Bananas
If you are running low on Bananas, keep replaying different levels to stock up on them so you can use them as a currency. Using the Golden Bananapower-up will allow you to do this speedily, but at the cost of having to purchase the power up.
Bumping into Fellow Minions
It is always worth bumping into Minions rather than grabbing some bananas, as this will increase your scoring multiplier. Simply get into the nearest lane to them and your Minion will do the rest.
Tired of the Revival Timer?
Tap rapidly on the screen anywhere outside of the revive box and you will be able to start up a new game. It will cost more to do this with each successive use in any single run.
Goals
The goals on the game are not very hard to complete, but they do reward you with generous amounts of tokens to help you continue. They will also open new environments up, so make sure you pay attention to them.
Power-Ups
Upgrades are available for your Minion at the shop and can be bought using the bananas you have collected. A vital upgrade is the Minion Shield so you can survive a collision on the course. This is very handy to have when the pace quickens. Make sure you make your decision carefully as they take away a lot of Bananas to purchase.
Free Tokens
There is the option of watching short video ads in order for you to earn free tokens. Each video you watch usually gives you 1 free token. The videos vary from 15-20 seconds each so it isnt impossible to build up a decent amount of tokens in a short amount of time.
This is a good option if you don't particularly want to spend money and have the patience to see it through. I tend to use it when I am a few tokens away from buying a power up that I need and it is quicker than finding tokens within runs or working towards an acheivement to unlock it.
Access the free tokens section of Minion Rush through the costumes menu. You will see a button along the bottom labelled free.
Gru Tokens
Gru Tokens are another currency in the game.
Gru tokens become available each time you complete a task so make sure you remember to claim them. This is a weakness in the game as it does not explain that in order to collect your tokens for the completed achievements you have to toggle from the goals tab to the achievements tab. Scroll through the list and see if any are completed and if they are you will see a claim button next to it.
Fluffy Unicorn

Grab the Fluffy Unicorn icon when it appears on the screen. You will need to unlock it from the store first, but once it is active it gives you the chance to earn some bananas! Use your tilt controls to steer the unicorn.
Outfits
The different outfits that are available in the game are not there just for fun. Each outfit has its own special powers or features. For example, some will increase your Banana count automatically by a certain percentage when you complete a run wearing that outfit. Other costumes make power ups last longer.
Stock up on outfits you can afford with your tokens as you receive them.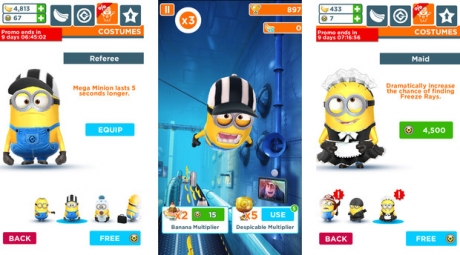 Launch Pads
If you see anything that looks like a launch pad, a platform or something similar, use it as it usually sends you high up in the air and gives you some bananas.
Disco Room
Whilst playing in Gru's lab watch out for a pipe to your right with Bananas on it. You can steer toewards that for a bonus portion of the game in the Disco Room.
Fighting Vector
One of the main reasons people fail when fighting Vector is because they fail to avoid the large units that he drops onto the lanes. A good way of avoiding this is to fire the shielded units back at him! Tap on the explosive objects to send them back towards his ship.
Connecting to Facebook
Connecting the game to Facebook not only gives you the opportunity to taunt your friends over whose scores are better, but also gives you 50 Gru Tokens, so it is worth linking the two up.
Be Patient
Keep playing the game as it has so much to offer, including multiple boss fights and you will not be able to master as soon as you get your hands on the game. So keep practising and the tokens and bananas will start coming too, together with the high scores.