Despicable Me: Minion Rush is an endless running game in which Gru's loyal, yellow, gibberish-speaking Minions compete with others in hilarious, fast-paced challenges in order to impress your boss. Jump, fly, dodge obstacles, collect bananas, be mischievous, and defeat villains to earn the title of Minion of the Year!
Basics
You play as Dave, a minion with the goal to become Minion of the Year by flicking, swiping, and tilting the phone to get through each level without running into any obstacles along the way. Each set of levels has a unique set of challenges and obstacles for you to overcome, such as food carts and thin bridges.
View your friend's high scores via the leaderboards and even send them minion messages in order to taunt them to compete against you.
Controls
The controls resemble that of Temple Run, as you are required to tilt and swipe your device in order to move your minion around. However, there are enough levels and unlockables packed into this game that it stands alone in its own right.
Bananas & Despicable Bonus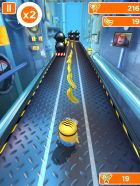 As you run through the levels you will run into bananas and other Minions trying to beat you to the finish line. By collecting bananas and hitting other Minions off the track for a Despicable Bonus you can increase your score and beat your friends.
In order to advance to the next level you will need a certain amount of bananas or tokens. If you don't have enough you can easily start a level over again or buy more through the app store.
Power Ups
There are numerous power-ups you can unlock in the game and these can help you whilst you play. You can unlock them by either using your tokens or purchasing from the store.
For example, a Golden Shield that protects you from bumping into things can be unlocked for 1,200 Tokens or bought for $9.99.
If you want to know about every power up that is available in the game see the Power-Ups section of the menu.
Customization
In addition to the playing the basic Minion, Dave, you can customize your Minion by purchasing and unlocking various costumes, such as the Minion family from the films, a singer, magician, or even a ninja.