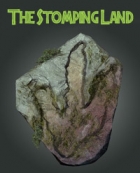 The Stomping Land is an open world, role-playing survival game developed by Supercrit and released on Microsoft Windows via Steam. It was successfully funded through Kickstarter on June 6, 2013 with 4,427 backers and making $114,060.
You are a hunter and a scavenger. You survive in a world with dinosaurs, and if any one of them catch you, they will end you in an instant. In fact, you can't kill most dinosaurs with ease, and the ones that you can don't provide plentiful amounts of food. It's the large ones that matter. The ones with bone crushing jaws and skull smashing tails that roam the island and fight each other, who provide the food you want. It's up to you to find methods of surviving for as long as possible, so you can tame these creatures to protect you from the relentless threatening engagements.
The Stomping Land Brainwaves
16th June, 0 replies

I were about to put my dinosaur in a cage, but when it was finished, I saw that the tail sticking out,...
Share The Stomping Land with others