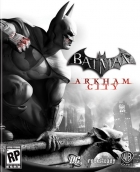 Batman: Arkham City is a third-person action-adventure game and is the sequel to Batman: Arkham Asylum, developed by Rocksteady Studios. The second game in the Batman: Arkham franchise, Arkham City was released on Xbox 360, PlayStation 3 in October 2011, Microsoft Windows in November 2011, Wii U in November 2012 and OSX in December 2012.
The story follows masked vigilante Batman aka Bruce Wayne as he fights off Gotham City's worst criminals, years after the events of Batman: Arkham Asylum. Mayor Quincy Sharp, under the influence of Hugo Strange, has declared Arkham Asylum no longer suitable for the criminals, instead giving them free reign of a guarded section of the city. Batman needs to watch over the city while also keeping his arch enemy, Joker, in check.
Batman: Arkham City Brainwaves
3 days ago, 0 replies

The latest entry in the Batman: Arkham series of games has just been revealed by Game Informer. Batman:...

17 days ago, 0 replies

Today Microsoft has kicked off a new sale. This sale includes a variety of indie and digital versions...

30th July, 0 replies

I was never a Batman fan. But I like to call myself a gamer. So when the first Arkham came about - i...
Share Batman: Arkham City with others