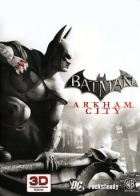 Batman: Arkham City is a third-person action-adventure game developed by Rocksteady Studios and released on Xbox 360, PlayStation 3, Microsoft Windows, Mac OS, and Wii U. It is the second game in the Batman: Arkham franchise, proceeded by Batman: Arkham Asylum.
The story follows masked vigilante Batman aka Bruce Wayne as he fights off Gotham City's worst criminals, years after the events of Batman: Arkham Asylum. Mayor Quincy Sharp, under the influence of Hugo Strange, has declared Arkham Asylum no longer suitable for the criminals, instead giving them free reign of a guarded section of the city. Batman needs to watch over the city while also keeping his arch enemy, Joker, in check.
Batman: Arkham City Brainwaves
24th November, 0 replies

Rocksteady Games, the developers of Batman: Arkham Asylum and Batman: Arkham City have released a new...

23rd June, 0 replies

According to a retail listing on Microsoft's online U.S Store, which is still on display at the time...

4th June, 0 replies

It seems no blockbuster game is safe these days. Batman: Arkham Knight, the fourth mainline entry in...
Share Batman: Arkham City with others